Metro: Last Light Faction Pack DLC Adds Three Missions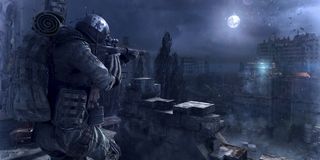 Metro: Last Light's first DLC, the Faction Pack, will debut next week. The Faction DLC will provide three new single-player missions to test your mettle.
Each mission casts you as a different character. In the first, you'll play as a Special Detachment Sniper of the Red Line infiltrating a Reich outpost during a radioactive storm. In the next, you'll play as a Reich heavy weapons specialist, using high-powered equipment to defend against enemy assaults. The third and final mission stars a Ranger from Polis exploring a Library complex. They must journey into the library to find relics. They can then trade in their findings for new filters or hazard suits so they can explore the complex even further.
Deep Silver says that these missions will take players to locations from Metro 2033. Each will introduce new weapons for you to wield. Expect a certain "terrifying mutant" to make a return as well.
The Faction Pack is one of four pieces of DLC planned for Last Light. All four can be purchased at once with the Season Pass. The Pass gives you a bulk discount on the DLC packs, while also providing access to a weapon called the Abzats. The Abzats is a semi-automatic shotgun capable of firing six shells at once.
Today Deep Silver decided to announce additional details on the other DLC packs as well. The second add-on centers around a combat simulator called the Tower. Players will fight their way through the Tower and try to rack up as high of a score as possible. The Tower Pack also includes online leaderboard support so you can measure your progress against the world.
The following DLC is called the Developer Pack. This unlocks a few side activities for players, including a shooting gallery, A.I. arena, and Metro Museum. In a new solo mission called The Spider's Nest, players will clear out a nest of Spider mutants. They'll be provided with some new tools in order to get this job done.
The game's DLC slate will conclude with the Chronicles Pack. Like the Faction Pack, Chronicles introduces new missions. Players will take on the role of campaign characters Pavel, Khan and Anna and experience their individual side stories.
The Faction Pack costs $4.99 to download separately. The Season Pass is $14.99.
Image 1 of 5