Microsoft Banning Customers' Xbox One Consoles Accessed Before November 22nd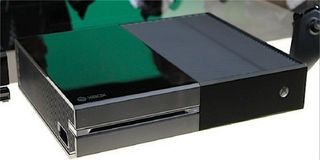 $500. You got it? Great. What are you getting this fall as your console of choice? Xbox One? Awesome. Pre-ordered it from Target? Darn right you did. Oh, it shipped early and you get access to it two weeks before the street date? Well unbox that crap and post a YouTube video. What? The video has been hit with a copyright strike? Wait, what? Your console has been banned? Microsoft can do that, can they?
So you get an Xbox One early, legally, after paying for it and you unbox it, plug it in and try to run the mandatory day one patch. You get console banned. Your console is now a brick. That's the story of one fellow who has taken his story to the interwebs, making a public mockery of the way Microsoft has treated their customers over the last few years.
Engadget has a really nice summary of the story so I don't have to get into the nitty gritty details. I do however, get to talk about how silly this whole thing has become.
What started as a console ban for early access to a Microsoft product (and remember, Microsoft also banned legitimate owners of GTA V when they had early access to the game as well, although ironically Sony was not banning anyone) has turned into a PR nightmare. You can check out the image of the banned console notice, courtesy of Gearnuke.
The owner of the now banned Xbox One, going by the Twitter handle of Moonlight Swami, which sounds like a Sailor Moon character, has been keeping the public up to date on his exploits with attempted videos and photos, proving he actually owns the Xbox One and that yes, the console is banned after he downloaded the day one patch and tried using it. He has showcased receipts, YouTube videos (which are now taken down due to a copyright strike) and posted details of the digital download sizes of the Xbox One. He's been exceptionally helpful in enlightening consumers about the product pre-release.
The thing is, this story has just blown up everywhere to the point where it's now looking exceptionally anti-consumer on Microsoft's end. The guy hasn't done anything wrong and Target was the one who screwed up. Funny how if another major corporation pumps the pooch in the pooty hole the customer is the one who has to pay for the punishment.
What's more is that this issued gained enough notoriety to get Larry "Major 'Flip Switcher' Nelson" Hryb involved, commenting on Twitter that he will look into the issue personally and try to get it resolved. In non-PR speak: "Oh hot dang, we dun goofed y'all and I need to find a way to make this horrible PR nightmare go away so I'm going to say something that I think everyone wants to hear".
According to a Microsoft representative, they told Engadget that...
This situation is absolutely asinine. Developers and publishers and Doritocrats sign gag orders, not customers who legitimately paid for their product. Did this guy sign an NDA when he pre-ordered from Target? No? Then unban his console. Did this guy sign an affidavit administering his rights of access over to Microsoft when he purchased his console? Well, that certainly doesn't seem to be the case... so why punish this fellow and others who are just doing what customers do... use the product?
This nightmare fits the treads of every inch of Microsoft's poor marketing momentum heading into the November 22nd launch, and I would be wrong if I said I wasn't cackling from amusement. Corporate humility is a hard thing to come by but it looks like we're finally starting to see it put into effect.
Now many individuals are hopeful that this isn't a permanent console ban and they're thinking that Microsoft will unban Midnight Swami's console as well as anyone else's console that was shipped out early. I wonder what the Microsoft defenders will have to say about this one?
Staff Writer at CinemaBlend.
Your Daily Blend of Entertainment News
Thank you for signing up to CinemaBlend. You will receive a verification email shortly.
There was a problem. Please refresh the page and try again.