Rockstar Bans GTA 5 Streams, Videos, Pictures, User Accounts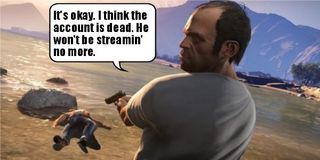 Rockstar Games and Take Two Interactive aren't playing around. They've been shutting down every single stream, video outlet, social media account and photo library they can that contains anything remotely related to Grand Theft Auto V that they didn't approve. In short: If you're posting up anything of GTA V that breaks the street date, then be on the lookout because Take-Two is coming for you.
As reported on in the article about the uncensored sex scene in GTA V, many websites have noted that Rockstar has a zero tolerance policy in effect for individuals hosting or broadcasting GTA V assets pre-release. As noted on Stickskills, Rockstar sent out the following message to all would-be leakers...
Yeah can you believe that? Early unboxing videos? Are they serious? I guess it's their toy and they can do with it what they want. They spent $265 million producing and marketing the game, so I guess it's their say.
Not everyone has been compliant, however. In fact, many users who managed to get their hands on GTA V early went on a media upload spree, showcasing all sorts of aspects of the game, ranging from the raunchy to the down-right ridiculous and pretty much everything else in between.
Well, Rockstar was having none of it... none of it at all. They went on a banhammer spree, with live-streamers like GTAJeffery, b0b and n0limitzzz getting their accounts banned from streaming services. You don't have to look far to find YouTube videos knocked completely offline, with copyright claims from Rockstar and Take-Two clearly made visible on them... like the two below.
Take-Two is serious about keeping GTA V under wraps for as long as possible. They've even extended their long arm of the law to the far social media depths of the internet where images, screen-captures and videos have been completely taken offline, such as here, here and here.
Microsoft has chimed in on the legal strong-arming, enforcing Take-Two's rule of thumb against pre-release play of GTA V by completely and entirely banning consoles found out to be accessing GTA V in any manner whatsoever. That obviously hasn't stopped gamers from torrenting the ever loving crap out of GTA V but they're doing so in an uphill battle against a very vigilant and unfettered force.
While initial torrents made it online with no problems, it will be interesting to see how hosting sites react to the takedown notices and legal pressure from Take-Two Interactive, who have made it known that they will stop at nothing to protect the financial sanctity of their property at all costs.
For those of you are patient enough to wait just a few more days, you'll be able to play GTA V on the Xbox 360 or PS3 come September 17th. Until then, it's probably best to put your eye-patch and hook-hand away.
Your Daily Blend of Entertainment News
Staff Writer at CinemaBlend.