Sony Isn't Banning PS3 Gamers For Playing GTA 5 Early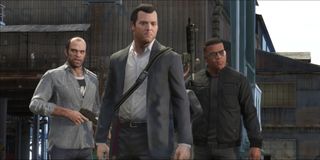 Talk about a tale of two cities. Sony and Microsoft have very different outlooks on the way they deal with their gaming communities. Sony offers free multiplayer, a helping hand to indies and a free pass to early adopters of GTA V, which is the complete opposite of what Microsoft is doing with anyone who has early access to Rockstar's open-world action game (that's not to mention what Microsoft thinks of multiplayer and indie devs).
We've reported on Rockstar Games and Take-Two Interactive going to some far extremes to keep people from playing GTA V before the official street date, this includes banning live-streamers, shutting down YouTube accounts, banning videos and hitting websites (like this one) with legal goons carrying cease and desists letters.
Helping Take Two Interactive take out the trash is none other than everyone's favorite big, bad, corporate overlord, Microsoft. As it was reported on in the thread containing the (now removed) videos of uncensored sex, airplanes and car crashes, Microsoft has been aiding and abetting Take Two in their own form of vigilante copyright justice.
Microsoft has gone over and beyond to stop pre-access to GTA V by console banning gamers. Yes, console banning them. Whether you were playing GTA V from a legitimate copy or you torrented the game that recently leaked, Microsoft has a zero tolerance policy on anyone playing the game that breaks the terms of service before the official street date. This should come as no surprise given that the company did the exact same thing when Halo 4 leaked early, too, as reported by Kotaku.
Sony on the other hand is doing right by gamers. If you have a legitimate copy of GTA V and want to play online, they aren't actively seeking you out to punish you, as it was noted in passing by Sony's worldwide studio boss, Shuhei Yoshida, who responded on Twitter to a concerned gamer asking whether Sony would come kicking down his door and if Mark Cerny would amply kick the PS3 owner in the gonads, take GTA V out of the disc tray, break the Blu-ray disc, throw the PS3 on the head of the downed gamer and then leave the house saying... "That's how Cerny does it, b*tch".
Instead, Yoshida-san simply said "I doubt it", as you can see in the Tweet below.
There have been zero reports of Sony banning any PS3 gamers, so far, as reported by The Sixth Axis.
Torrents, however, are available for both the PS3 and Xbox 360 version of GTA V. Over the past two days the game has been leeched by more than 100,000 gamers.
Despite so many gamers having early access to the game in equal manner to Xbox 360 gamers, Sony hasn't lifted a finger against PS3 gamers, which is funny considering that all the people being console banned on the Xbox 360 are people who have logged into Xbox Live and are likely paying subscribers. Great way to treat your paying customers, Microsoft.
Grand Theft Auto V doesn't officially drop until this upcoming Tuesday, however if you really want to get in on the action legitimately, you can check out some of the midnight launch options right here.
Staff Writer at CinemaBlend.
Your Daily Blend of Entertainment News
Thank you for signing up to CinemaBlend. You will receive a verification email shortly.
There was a problem. Please refresh the page and try again.