Microsoft Is Fully Aware And Listening To Xbox One's Consumer Rage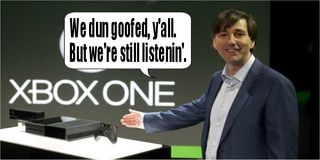 As many of you now know, Microsoft has shutdown communication with the media in any capacity concerning their head honchos. Things have simmered down and taken a much more passive role with Microsoft entrusting all major announcements and community interaction to Larry "Major Nelson" Hryb.
Well, Major Nelson is back from his weekend vacation and that means he's re-equipped his flameproof jockstrap and stepped back into the drudge known as consumer rage. People have been livid about privacy concerns, ownership rights and obligatory check-ins with the corporate overlords. Well, the good news is that Major Nelson has been given the go-ahead to "speak" to the community, and he let everyone know that Microsoft is fully aware and listening to all the rage regarding consumer concerns...just like Sony.
So to put all of this into context before getting to the inevitable and viably necessary quote, let's first recap this so you have an idea of what's what:
Microsoft announced the Xbox One on May 21st.
Majority of the 8.45 million who tuned in were disappointed.
Microsoft execs speak a little too openly about the Xbox One's policies.
Gamers get absolutely livid while Angry Joe Fights back.
Gamers switch allegiance to the PS4.
Microsoft sells more Wii U units than Nintendo.
Microsoft responds by blaming media for inaccurate reports.
Microsoft disables comments on all their Xbox One videos.
Major Nelson takes time off Twitter.
Sony trolls Microsoft by getting gamers to Tweet #PS4UsedGames and #PS4NoDRM.
Sony says they're listening.
Microsoft is ready to get back into the PR game...
And here we are.
A lot of diehard Xbox fans have been keeping very busy on Major Nelson's official website and trying to warn, inform and make everyone aware of what's what with the Xbox One. Well, Larry "Major Nelson" Hryb decided to chime in, and while nothing is set in stone, he did mention on the public forum that...
So there will be games and Microsoft is listening...or vice versa, whichever one suits your tastes.
Anyway, just keep in mind that there are a lot of rumblings that everything we already know about the Xbox One – as revealed by the lips and marketing lyrics from Microsoft's own – is exactly what the console will be. Many gamers fear that come E3, Microsoft will simply find a way to spin what we know into something more positive. The other alternative is that Microsoft may disable some of the features for the launch of the Xbox One and assuage many of the fears that people have regarding its policies.
Regardless of what happens, we'll find out soon enough in two weeks.
Staff Writer at CinemaBlend.