Microsoft Says Windows 7, Nvidia GTX PCs At E3 Were Xbox One Dev Kits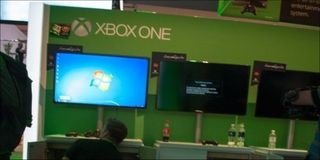 We, the gaming public, have finally received some kind of answer to the conundrum that was the Xbox One scandal of the decade (even though it really wasn't). Microsoft was reached out to over the weekend to gather a response and some sort of explanation to clarify what was going on with those Windows 7 PCs that were running Nvidia GTX 780s for several Xbox One games.
According to an Israeli site NGOHQ, they received word from Galit Motai, PR Manager at Microsoft Israel, who wrote to them in response to the controversy, saying...
I don't know if I quite understand this: So an AMD GPU and CPU combined in a custom built APU clocked around a 7790 for the Xbox One is equivalent to a PC running a dev kit on an Intel CPU and Nvidia GTX 700 series GPU?
I mean, we could ignore that they were running Windows 7 since it's the more stable OS, even though the Xbox One uses a Windows 8 core, but I can't get over the Nvidia GTX card. There's a whole lot wrong with using a GTX to spec a game to for demo purposes compared to what the system will ship with.
Peter Moore's comment about the PCs being specified to comparable hardware of the home consoles [via GG Games] doesn't jive with what Motai is saying, unless we're talking about hardware emulation.
Now, according to the developers of Lococycle, the game that was running at the kiosk where the pictures were taken of the Windows 7 PCs with GTX cards -- they were simply running the game native since they didn't have time to code to a dev kit for E3. As noted by the good folks at Forza Central, lead designer Michael Wilford openly stated...
Exophase also dismisses any other cases of games running natively on PCs, noting that it was only Lococycle.
However, there is a story with Battlefield 4 and Dead Rising 3, along with a couple of journalists noting that some games were crashing to a Windows 7 OS desktop as noted in the Digital Foundry article, but I digress.
While it's no surprise that multiple games were running on high-end PCs (and not actual dev kits) there were a number of PlayStation 4 developers who came forward to state that Sony had provided actual dev kits specified to the PS4's hardware, and that many of the games on showcase at E3 were running on equivalent PS4 hardware.
Regardless, Microsoft has spoken and if they say that Windows 7 PCs with Nvidia GTX cards are dev kits for the Xbox One, then they're dev kits for the Xbox One. Just don't expect Xbox One games to look remotely similar when they actually launch for the console, given that they were running on a card that costs more than the system itself and is more powerful than both the Xbox One and PS4 combined.
Your Daily Blend of Entertainment News
Staff Writer at CinemaBlend.