MineCon 2013 Tickets On Sale Today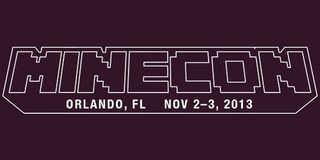 MineCon 2013, the latest convention for all things Minecraft, will be held on November 2nd and 3rd. If you're interested in attending, you'll have your first shot at tickets later today.
The first batch of tickets will be available at 4pm PDT / 7pm EDT. At that time, Mojang will be selling off 2500 tickets for $150 each. You can buy up to 6 tickets at once if you're planning on going with a group or scalping your ass off. Children under three years old won't need a ticket.
Mojang plans to release three sets of tickets in total, each at very different times of the day so a variety of people have a chance at them. The second batch will go on sale August 2nd at 7am PDT / 10am EDT. The third and final batch will be sold on the following day at 12pm PDT / 3pm EDT.
At MineCon, fans will be able to attend panel discussion with Mojang employees as well as other members of the community. It's also a place to see and buy new Minecraft-related products. Past MineCons have featured building and costume contests so players can show off their creativity.
"Volunteer and panelist submissions will be taken soon, details to come in the coming weeks," Mojang says.
Mojang sometimes brings demos of upcoming Mojang games to the convention as well. For example, MineCon 2011 allowed gamers to try out the Xbox 360 edition of Minecraft. I'd imagine that Scrolls, Mojang's collectible card strategy game, will make an appearance this year. Scrolls entered open beta earlier this year. I'd like to see 0x10c as well but Mojang will probably keep that one under wraps for a bit longer.
MineCon 2013 will be held at the Orange County Convention Center in Orlando, Florida. Mojang has arranged for special rates at the hotels near the convention center. They didn't provide a list of these hotels yet but say that they have different prices and distances from the OCCC.
While Mojang has announced the dates of MineCon 2013, they didn't specify the exact times. They expect it to run from about 10am to 5pm on each day, though.
This year's convention will be the fourth MineCon. The event began back in 2010 with an informal gathering of dozens of players in Bellevue, Washington. Conventions in subsequent years were held at Mandalay Bay in Las Vegas and Disneyland Park in Paris.
If you're interested in buying tickets for MineCon 2013, head to this site.
Staff Writer at CinemaBlend.
Your Daily Blend of Entertainment News
Thank you for signing up to CinemaBlend. You will receive a verification email shortly.
There was a problem. Please refresh the page and try again.