Minecraft Xbox 360 Skin Pack 6 Includes Dragon Age, Mirror's Edge Characters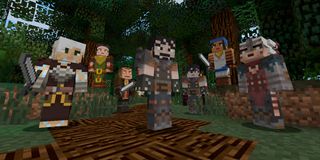 Not all of the characters in Minecraft Xbox 360 Edition's Skin Pack 6 will be from Xbox exclusive franchises. 4J Studios revealed through new sets of screenshots that Mirror's Edge and Dragon Age will also be represented in the DLC.
The Dragon Age game represented in the Minecraft DLC is Dragon Age 2. You'll be able to make your character look like Isabela, Fenris and Merrill. Main hero Hawke is available in female and male form - nice touch, that.
Mirror's Edge might only have one character in Skin Pack 6: Faith. It's not like there were many other memorable people in that game. The only other cast members I can recall are the blond girl and an army of faceless soldiers. On the plus side, 4J Studios did a great job of recreating Faith in Minecraft form. She even has her face tattoo.
Recent Xbox 360 and Xbox One release Super Time Force will contribute six more skins. Even if you're not familiar with the game, you'll probably appreciate the colorful group of characters. They range from a dinosaur in Hawaiian shirt to an armored dude named "Shieldy Blockerson."
The last group of characters confirmed by 4J Studios this week is from State of Decay. Surprisingly, they didn't opt for zombie skins. They decided to remake survivors like Maya and Shark Hoodie Guy. Given State of Decay's permadeath feature, seeing these skins in Minecraft might end up being a traumatic reminder of the characters you couldn't keep alive (damn it, Marcus).
4J Studios previously confirmed that Skin Pack 6 will also include characters from Trials Fusion and Season One of Killer Instinct. The DLC probably includes characters from a few others as well. Minecraft Skin Packs typically include about 35 characters.
The release date for Skin Pack 6 hasn't been announced yet. State of Decay developer Undead Labs said on their website that the DLC is coming "really soon," though. Given the amount of details released on the add-on so far, it could be just days away.
Skin Pack 6 has only been announced for an Xbox 360 release thus far. However, I wouldn't be surprised to see it land on Xbox One as well. Minecraft's Xbox One version will launch in August.
Image 1 of 4
Your Daily Blend of Entertainment News
Staff Writer at CinemaBlend.