Mirror's Edge 2 Is Actually Mirror's Edge Catalyst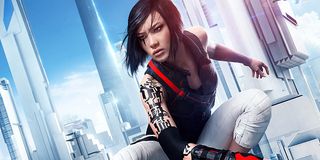 Since EA announced they were making a new Mirror's Edge, we've been calling it Mirror's Edge 2. However, the long-teased game actually called Mirror's Edge Catalyst and it's not a sequel at all.
Sara Jansson, senior producer of Mirror's Edge Catalyst, confirmed the PS4/XB1/PC game's title in a new letter on the official ME website. She also added that veterans of the first game should expect some big changes.
"Mirror's Edge has always had a special place in the hearts of all of us at DICE. The first game had a lot of promise. It was unlike anything else in terms of the gameplay and style — it had a unique soul. But as much as we loved that game, we knew it could be more. So that's what we have set out to do as we introduce Mirror's Edge to a new generation."
Added Jansson: "The team has spent a lot of time re-evaluating every aspect of the game and making it a new experience. This is not a sequel, this is not Mirror's Edge 2. We have landed on a vision that honors the first game — pushing the boundaries of first person movement and diving deeper into the story behind our heroine Faith — but also brings a lot of great new, interesting gameplay and features to the experience for our players."
The title was first outed by a NeoGAF user who noticed that EA had trademarked it in Europe. Jansson's letter serves two purposes, then. It confirms the speculation about the trademark filing while also teasing a bigger reveal at E3.
"Thank you for your incredible passion and your patience. I'm excited to tell you that it's paid off — by this time next week, you will have finally seen more of the game at E3."
EA first revealed the new Mirror's Edge during E3 2013 with a CGI trailer. That trailer reintroduced Faith, a courier delivering contraband in a dystopian future. The following year, the company released concept art along with a making-of video with some prototype footage of Faith's new parkour moves.
It seems all but certain that we'll finally get to see some actual gameplay footage. Catalyst is expected to launch by early next year so if that's going to happen, EA's going to have to start showing off the game itself.
Your Daily Blend of Entertainment News
Staff Writer at CinemaBlend.