Modern Warfare 3 Xbox 360 Console Bundle, Wireless Headset, Wireless Controller Revealed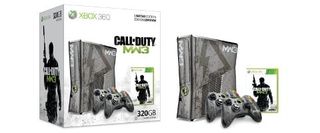 When Call Of Duty: Modern Warfare 3 arrives this fall, it will be accompanied by a limited edition Xbox 360 bundle. They'll be in stores throughout the world, along with Modern Warfare 3-themed headsets and controllers.
The Xbox 360 Limited Edition Call of Duty: Modern Warfare 3 Console is adorned with custom art and plays Call of Duty-like sounds when turned on. The bundle also includes two MW3 wireless controllers, a 320GB hard drive, a copy of MW3, a one month subscription to Xbox Live Gold, and exclusive Xbox Live Avar items.
The console can be pre-ordered today through select retailers. It will be released on November 8th in the US, Canada, Mexico, Australia, New Zealand, and EMEA. The price is $399 here in the States.
The Modern Warfare 3 Wireless Headset with Bluetooth allows you to chat while playing online. It can also be used with Bluetooth-enabled mobile phones, PCs and other devices. Its artwork matches the MW3 console. The $69.99 headset will come with a charging cradle, ear loop, ear gels, and a token for an exclusive but unspecified Xbox Live download.
The MW3 Wireless Controller is, well, a controller without any wires. Like the other MW3 hardware, it features custom artwork. You can rotate the D-pad to make it turn into a "disc" or "cross" shape depending on your preference. The controller is $59.99 and also comes with a token for an exclusive download.
Both the controller and headset will arrive before MW3. The accessories are slated to hit stores on October 11th.
Image 1 of 6
Image 2 of 6
Image 3 of 6
Image 4 of 6
Image 5 of 6
Image 6 of 6
Staff Writer at CinemaBlend.