Mortal Kombat Full Soundtrack List Revealed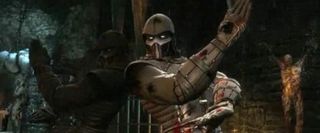 Warner Tower Music and Teenage Riot Records have finally revealed the complete soundtrack listing for the album Mortal Kombat: Songs Inspired by the Warriors. The soundtrack features a collaboration of fight-inspired tunes from some top-draw electronic and techno artists, including Bird Peterson and JFK.
Glitch-step wunderkind Skrillex, who contributes "Reptile's Theme" to the project commented in the press release, saying...
You can get a taste of some of the fight music over at the Official Mortal Kombat Website, where various tracks from popular MK characters are available. The complete list of fatality-driven pugilists tunes can be viewed below. The official Mortal Kombat soundtrack is due out April 5th, while the game itself will debut for the Xbox 360 and PS3 on April 19th.
MORTAL KOMBAT: SONGS INSPIRED BY THE WARRIORS TRACK LISTING:
1. Deathstalker (Scorpion's Theme) - JFK of MSTRKRFT
2. Mileena's Theme - Tokimonsta
3. Helado (Sub-Zero's Theme) - Harvard Bass
4. Liu Kang's Theme - Congorock
5. Goro's Theme - Bird Peterson
6. Reptile's Theme - Skrillex
7. Raiden's Theme - 9th Wonder
8. Johnny Cage's Theme - LA Riots
9. Baraka's Theme - Run DMT
10. Kung Lao's Theme - Felix Cartal
11. Kano's Theme - Them Jeans
12. Shao Kahn's Theme - Sound Of Stereo
Your Daily Blend of Entertainment News
Staff Writer at CinemaBlend.