NBA 2K15 Face Scans Can Be Horrifying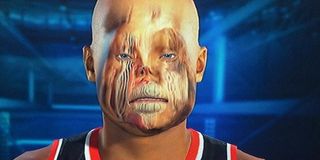 NBA 2K15 allows gamers to put their face onto one of the players in the game. Sometimes this works. When it doesn't work, the results are terrifying.
Players use the Xbox One or PS4's camera to scan themselves. NBA 2K15 then turns that scan into a 3D model usable within the game. Here's what the face scans look like when they're successful:
For some reason, not every scan ends up looking so accurate. In fact, some of them don't even appear to be human. Here are some of the unsuccessful attempts posted on Twitter by NBA 2K15 players (via The Independent):
No offense, The Evil Within and Alien Isolation, but I don't think you're going to be the scariest game of the fall. NBA 2K15's got that accolade locked down tight.
If your face scans keep looking like burnt, deformed orcs, there may be a way to fix it. 2K Sports' Ronnie Singh tweeted the following tips over Twitter:
This is probably the first time I've heard a developer ask players to consider shaving. It won't be the last, though, if this face-scanning technology remains a part of the NBA 2K series. I hope 2K does keep this as a regular feature, too, if only because of the unexpected comedy it brings us.
NBA 2K15 launched in North America today on Xbox One, PS4, PC, Xbox 360 and PS3. Australia and Europe will have to wait until the 9th and 10th, respectively.
Your Daily Blend of Entertainment News
Staff Writer at CinemaBlend.