NBA 2K15 Adding Turkish Teams To Euroleague Roster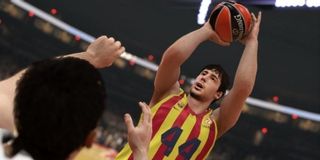 Basketball is a global game these days but, for the most part, that fact has been overlooked in the realm of video games. It looks like 2K will be correcting that oversight to a degree this year, announcing that NBA 2K15 will boast a roster of 25 teams plucked from the European professional league.
While Euroleague teams were included in NBA 2K14, 2K announced that the available teams will be bolstered in the 2015 edition of the game (which releases in 2014, in case you were confused), with extra teams from the Turkish Airlines Euroleague making the cut. While NBA 2K15 doesn't release until this fall (Oct. 7 in North America and Oct. 10 internationally), at least this announcement should give underrepresented fans something to cheer about between now and then.
"NBA 2K15 will feature 11 additional teams from the Turkish Airlines Euroleague, including top-level FC Bayern Munich of Germany, JSF Nanterre of France, Galatasaray Liv Hospital Istanbul of Turkey and Partizan NIS Belgrade of Serbia, bringing the total number of playable Euroleague teams to 25," reads a statement from 2K. That list of teams includes every group that took part in the 2013-14 Turkish Airlines Euroleague, for fans who know far more about the sport than I ever will.
As a side note, all squads will also be updated to reflect any trades and alterations that occur between now and the day of release. As we all know, sports fans are nothing if not utterly dedicated to the most accurate virtual representation of their favorite non-digital activity possible.
I am, clearly, not too familiar with these European leagues, and I'm going to go ahead and guess that that has something to do with the marketability of these teams. Here in the states, we've got squads named after legendary warriors and mythological beasts. In Europe, where half of these legendary warriors and mythological beasts actually originated, the best they can come up with is "Galatasaray Liv Hospital Istanbul? I mean, come on, gang, just put a little effort into the naming process, yeah? How's about the Greek Gods? Or maybe the Turkey Stampedes? Name a team the French Fries and, I swear to you, I will tune in for every game. I love me some French fries.
According to Euroleague Basketball President and CEO, Jordi Bertomeu, it was actually fan response to last year's iteration of NBA 2K that helped spur on the inclusion of even more teams.
"After an exciting start last year, our partnership with 2K takes another strong step forward with an expansion of the Euroleague Basketball teams in NBA 2K15," said Bertomeu. "The appeal of our style of basketball to video game fans was evident right away with just 14 teams last year, and we are sure that seeing many more of them in NBA 2K15 will be another hit."
Staff Writer for CinemaBlend.
Your Daily Blend of Entertainment News
Thank you for signing up to CinemaBlend. You will receive a verification email shortly.
There was a problem. Please refresh the page and try again.