NCAA Cutting Ties With EA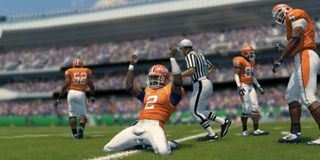 NCAA Football 14 will be the last game in EA Sports' series to carry the National Collegiate Athletic Association's name and logo. The organization announced today that it will allow its current contract with the game publisher to expire next summer.
"The NCAA has made the decision not to enter a new contract for the license of its name and logo for the EA Sports NCAA Football video game," the organization said in a statement. "The current contract expires in June 2014, but our timing is based on the need to provide EA notice for future planning. As a result, the NCAA Football 2014 video game will be the last to include the NCAA's name and logo."
Both EA Sports and NCAA are currently dealing with lawsuits from former college athletes. These athletes accuse the companies of using their likenesses in NCAA video games. They argue that, because they're no longer in college, they should be financially compensated for appearing in these games. The NCAA has apparently decided that licensing additional games would just open them up to additional lawsuits.
"We are confident in our legal position regarding the use of our trademarks in video games. But given the current business climate and costs of litigation, we determined participating in this game is not in the best interests of the NCAA."
The organization added: "The NCAA has never licensed the use of current student-athlete names, images or likenesses to EA. The NCAA has no involvement in licenses between EA and former student-athletes. Member colleges and universities license their own trademarks and other intellectual property for the video game. They will have to independently decide whether to continue those business arrangements in the future."
This doesn't mean the end of the college football games for EA, though. It just means that the NCAA won't be involved. Instead, EA will negotiate directly with the colleges featured in the game. ESPN's Brett McMurphy says that the series will be called College Football moving forward:
The ESPN article on today's news reports that the College Football series will depict "powerhouse schools." They mention Alabama, Ohio State and Oregon as a few examples of schools appearing in CF15. I'd imagine EA will try to sign as many schools for the game as possible, though.
NCAA Football 14 launched last week on PS3 and Xbox 360. The cover athlete for the game is former University of Michigan quarterback Denard Robinson. Ohio State fans should feel free to spread the lie that Michigan killed the series.
Staff Writer at CinemaBlend.