NSA Monitors Kinect Messages, Biometric Data, IP Addresses Via Xbox Live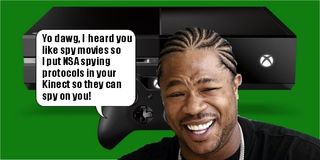 Hey did you just read the article here on Gaming Blend about World of Warcraft being infiltrated by the NSA? Well, it's not just World of Warcraft. Linden Lab's Second Life is another perpetrator of getting into bed with the NSA and worse yet, it's been revealed that Xbox Live and the Kinect were prime tools used to help the NSA spy across international waters.
GamesIndustry.biz has a startling follow-up report on the whole PRISM deal that was leaked by Edward Snowden, where it's revealed that...
This jarring revelation is the sort of thing that had Australia's civil liberty director, Tim Vines, calling the Kinect 2.0 a "surveillance device"... because it is.
Vines' comments followed behind Germany's Federal Data Commissioner, Peter Schaar, who also called the always-watching and always-listening Kinect 2.0 a nightmare.
According to GI.biz report, the UK's spy agency had these words of comfort to share, in light of the community being in a bit of an uproar over the spying allegations...
Gamers, tech enthusiasts and general consumers alike have every reason to be skeptical about having the Kinect in their home, especially considering that the device does read and gather user feedback, including but not limited to voice recognition, face recognition, biometric feedback data, location data and personal information. The Kinect 2.0 also has heat signature tracking, infrared visualization and can monitor movement and sound through the dark with pinpoint precision. Although, following some concerns, Microsoft did state that users have "full control" over how much data and what kind of data Kinect collects and sends to "third-parties".
Ideally, the NSA could make perfect use of the aforementioned data threads to identify and find whoever they're looking for just by someone registering their data with Kinect and logging into Xbox Live. Just that easily, all your information is up and out there for analytical filtration and monitoring.
According to a statement by Microsoft...
Previously, Microsoft released a public missive about protecting the data of its customers and rolled out a bullet sheet of measures they take to protect and secure sensitive information. However, none of that really matters when the NSA is filtrating information regardless.
As noted in Snowden's report...
Hired tech infiltrators living amongst you, working against you... playing with you.
The black helicopters and tinfoil hat talk looks a heck of a lot more legitimate with information like this rolling out.
Microsoft has yet to respond to the latest report inquiries.
Staff Writer at CinemaBlend.
Your Daily Blend of Entertainment News
Thank you for signing up to CinemaBlend. You will receive a verification email shortly.
There was a problem. Please refresh the page and try again.