Need For Speed: Most Wanted Will Get Special DX11 Treatment On PC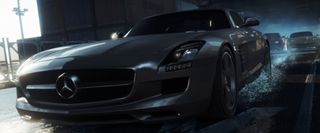 After all the digital distribution numbers piled in and publishers started seeing how much money could be made on the PC platform, the whole tune of "PC is dying" and "piracy is killing gaming" has stopped. In a recent interview a producer at Criterion was talking up all the highlights of the PC version of Need for Speed: Most Wanted and how PC gamers will get special DX11 features and a 300% performance boost over previous DX9 functionality.
In an interview with Games.On.Net [via DSO Gaming] producer Leanne Loombe from Criterion Games spoke about a number of things regarding the game, but when asked out-right about the PC version (because yes, PC users are gamers, too) Loombe had this to say about the DirectX 11 functionality...
Hot diggity dog. Now those are some good stats. A 300% performance boost in rendering from DirectX 9 to DirectX 11 sounds like some sort of heavenly tune. Too many games actually work worse with DirectX 11 than they do DirectX 9, so it's good that Criterion is actually utilizing the more advanced technology to improve performance rather than hinder it like some companies cough Crytek cough.
Unfortunately LAN play isn't making the cut, though, but that's not surprising given that most company's aim for an all-digital future seems to not include being able to play across local-area networks. That makes all the sense in the world.
Still, it at least sounds like PC gamers will get some preferential treatment this time around. That's a good sign, right? It sure beats the developer calling gamers whiny, thieving pirates and then releasing the game on the platform anyways.
You can look for Need for Speed: Most Wanted to launch for the Xbox 360, PS3 and PC on November 2nd. For more information feel free to visit the Official Website.
Your Daily Blend of Entertainment News
Staff Writer at CinemaBlend.