Ninety-Nine Nights II Available For Xbox 360; DLC On The Way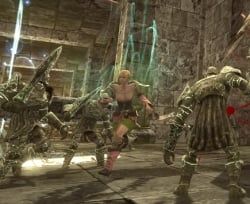 Konami announced that the not-so-talked about Ninety-Nine Nights II is finally available for the Xbox 360 and that DLC will be arriving later in the month. The game takes a slightly different approach to the hack-and-slash genre by allowing players to take on the perspective of multiple characters of different races, including Goblins, Elves and Humans, who are all set amidst the turmoil of war.
As stated in the press release…
This is the sort of game that will get your thumbs all pumped and bloated with gaming muscles. You can show them off to your girlfriend once you get done beating this game and once and for all shut up all the naysayers by showcasing that games can help you achieve greatness…muscled-up thumb greatness, that is.
As for the DLC….it's scheduled to become available later in the month and feature additional maps and features for the online multiplayer component. The DLC will be available for only 320 MS points. In addition to this, November will mark the release of a second DLC pack that will include extra weapons for all the characters.
You can grab a free demo of the game via the XBL Marketplace or pick the game up from your local retailer. For more info be sure to visit the Official Website.
Staff Writer at CinemaBlend.
Your Daily Blend of Entertainment News
Thank you for signing up to CinemaBlend. You will receive a verification email shortly.
There was a problem. Please refresh the page and try again.