Nintendo Downloads: Need for Speed: Nitro-X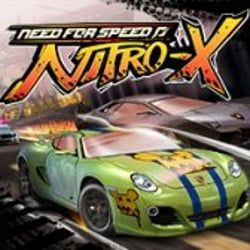 This week's batch of DSiWare and WiiWare releases includes two games for dog lovers. If you're more of a cat person, you'll have a new Need for Speed game and Blackjack to occupy your time.
Nintendo DSiWare
Need for Speed: Nitro-X
Publisher: Electronic Arts
Players: 1-4
ESRB Rating: E10+ (Everyone 10 and Older) - Mild Violence
Price: 800 Nintendo DSi Points™
Description: Get in gear for the super-charged thrill of driving the world's hottest cars and the flat-out fun of arcade-style racing. Access awesome custom features such as the Camera Tag Editor. Snap images with the built-in camera and plaster racing environments with your personal tag. Touch controls give you the feel of real racing, too. Push it to the limit in up to 18 supercars, including the Pagani Zonda R, Porsche Carrera GT and Lamborghini Gallardo. You can also set your sirens off in the exclusive Super Pursuit Mode that lets you drive as a cop. Lay down the law in up to six never-before-driven police cars, including the Hummer H2 SUT. Chase or be chased through 16 detailed tracks. Factor in tracks that can be reversed and you've got nearly 30 amazing runs to choose from. Accelerate through three streamlined tiers as you pull off extraordinary maneuvers, win awards and blow away up to three friends in local multiplayer mode. Feed your need for speed like never before on the Nintendo DSi system.
Go Fetch!
Publisher: Agetec, Inc.
Players: 1
ESRB Rating: E (Everyone)
Price: 500 Nintendo DSi Points
Description: The idea of Go Fetch! is simple yet entertaining. Balls are thrown and players must use the stylus to guide the puppy and collect balls. The puppy must avoid various obstacles and collect items in order to complete stages. A wide variety of locations, including Backyard, Park, Beach, Riverside, School, Plaza and Parking Lot, offer various challenges. Choose from different breeds of puppies, each with its own unique appearance and attributes. Remember, puppies are easily distracted, so don't get too close to a cat or you'll lose valuable time. If the puppy knocks something down, time is lost since the item must be picked up. Fetch this game and enter the doggy dog world.
21: Blackjack
Publisher: Digital Leisure Inc.
Players: 1
ESRB Rating: T (Teen) - Simulated Gambling
Price: 200 Nintendo DSi Points
Description: Now you can take the thrill of the casino on the go with 21: Blackjack. Whether you're a seasoned player or a rookie at the table, 21: Blackjack has a variety of game-play options to take your skills to the next level. You can change the payouts, the number of decks in play, splitting options and even choose whether or not the dealer hits on a soft 17. These are just a few of the many advanced game-play options. If you want to know how well you've been playing or how many Blackjacks have taken you to a winning hand, check out a full range of player stats available for viewing at any time. Now's your chance to Hit, Stand or Double Down with 21: Blackjack.
WiiWare
Derby Dogs
Publisher: Aksys Games
Players: 1-8
ESRB Rating: E (Everyone)
Price: 500 Wii Points™
Description: Derby Dogs is a simulation that lets you raise, breed and compete with dogs by feeding them and training them in a variety of exercises. You can also frequent a virtual dog shop to rent dogs or buy new doghouses or meals. Your dogs can race on numerous courses to win titles and prize money. You can also breed your dogs to create even better dogs. Raise your dogs and have them compete with players far and wide via the Nintendo® Wi-Fi Connection service (broadband Internet access required). Can you become the best handler around?
Triple Running Sports
Publisher: The Code Monkeys Ltd
Players: 1-2
ESRB Rating: E (Everyone)
Price: 500 Wii Points
Description: Triple Running Sports is one of the most advanced recreational running games available for the WiiWare service, immersing players in the world of competitive running. Most events consist of activities that are traditionally derived from hunting and combat skills. Over time these practices have evolved into a variety of competitive sports that include 100-meter, 400-meter Sprints, Hurdles and the 1,500-meter race. As with real-life running events, players have full control over the pace of each race. They must also account for the finish-line surge and the timing of hurdle jumps, as these factors can all influence their success.
Your Daily Blend of Entertainment News
Staff Writer at CinemaBlend.