Notch Calls EA Cynical Bastards, Says They're Ruining Gaming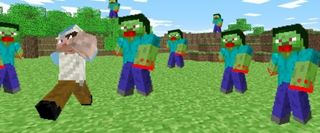 Things have recently heated up over a new digital gaming bundle pack. Even though bundle packs come a dime a dozen, why is there so much heat over a new bundle pack from EA? Well, because EA is calling it an "EA Indie Bundle" and independent developers are not liking that at all.
Markus "Notch" Persson, the lead designer at Mojang who worked on MineCraft, the uber popular open-world indie title, has blasted EA over their attempt to cash-in on the indie genre.
According to Tom's Hardware, "Notch" took to Twitter saying...
The "EA Indie Bundle" consists of games developed by independent studios but published by Electronic Arts via their partnership program. Fan-favorite titles in the bundle includes Shank, Shank 2, Warp, Gatling Gears, DeathSpank and DeathSpank 2: Thongs of Virtue.
It is true that indie games are really kicking it into high gear...they're completely reinvigorating the niche side of gaming that made video games popular in the first place. The move away from mainstream AAA blockbusters has given rise to completely original titles that have helped shape brand new gaming experiences, such as MineCraft, Cloud, Bastion, Trials, Dust Force, Cave Story and Limbo to name a few. Most indie games are popular within the core-core gaming community, as developers and real gamers have a much more intimate relationship without the assistance of publishers, especially with programs like KickStarter, IndieGoGo or the WMD Portal.
Indie dev Dan Marshall also shot off disproval of EA trying to use "indie" as a way to cash in on the trend, saying on Twitter that...
A lot of other people don't see the problem considering that technically EA is right, the titles in their bundle pack were created by small independent studios, it's just that they were published by one of the largest software publishers on the planet.
It's easy to see it from Persson's angle, though, since EA is known for being a virus amongst most developing circles, eating away at top notch talent and leaving little more than a rotting carcass and a bleak shell of the former developers. I guess, in most indie devs' minds, they just don't want to see that virus spread from mainstream gaming to the indie circles they've retreated to in order to escape such an unfathomable fate.
Your Daily Blend of Entertainment News
Staff Writer at CinemaBlend.