New Oddworld Game Announced For Next Year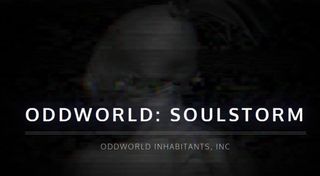 Oddworld Inhabitants and Frima Studio have announced that a new Oddworld game is in the making. They don't specify for which platforms this new game is going to arrive on but they do reveal that it's coming in 2017 and it will be unlike any of the previous Oddworld titles.
According to Wired, this new Oddworld: Soulstorm will be a partial continuation and retelling of the original Oddworld. The game will supposedly pick up where Oddworld: New 'n' Tasty left off, which was a complete remake of the original Oddworld: Abe's Oddysee made in the latest version of the Unity 3D game engine.
Over on the official Oddworld: Soulstorm website they reveal more about the plot and the seemingly insurmountable amounts of adversity that Abe and 300 of his fellow Mudokons will have to deal with as they've managed to escape from the clutches of Molluck The Glukkon, only to find that they're now out on their own with no food, no shelter and no way to survive.
Things take a startling turn when they find a delicious brew that has "insidious ramifications" that Abe and his Mudokons have to deal with.
The new game will supposedly delve deep into thematic discussions about consumerism, corporatism, greed and environmentalism. The Oddworld series has never shied away from those topics, usually incorporating them in sly ways throughout the puzzle-filled adventures.
According to the creator of the series, Lorne Lanning, they wanted to finally explore the story in the way that they've always wanted to but were limited before. Lanning explains in the press release...
That sounds very interesting. It's almost like a pseudo-reboot of sorts, but maybe it will eventually all link up to the original sequels in the series? The series kind of ended its story at Oddworld: Munch's Oddysee but there were a few spin-offs that didn't quite fare as well on the market as they had hoped, like with Oddworld: Stranger's Wrath, which eventually saw Electronic Arts and Lorne Lanning having a huge fallout due to the creative and promotional differences in how both companies wanted to approach Stranger's Wrath. There were some bitter words exchanged between EA and Lanning over the failure of the game, but after that the Oddworld Inhabitants crew moved on and independently funded Oddworld: New 'n' Tasty.
According to the developers, this new follow-up called Soulstorm will take the series in a new direction with some new puzzles, new gameplay and new challenges for players to overcome.
Right now they have a little promotion going on with increasing their follower count to reveal the full image of Abe, the protagonist from the series. As they gain more Twitter followers they will unveil images of Abe's hands, chest and face. They're still a long ways off from completing that goal but then again they just announced the game.
You can expect to see Oddworld: Soulstorm launch in 2017.
Your Daily Blend of Entertainment News
Staff Writer at CinemaBlend.
Your Daily Blend of Entertainment News
Thank you for signing up to CinemaBlend. You will receive a verification email shortly.
There was a problem. Please refresh the page and try again.