One Fan's Theory Might Point To A Red Dead Redemption Sequel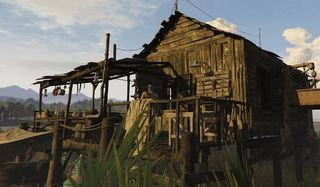 With E3 just a week away, it's no surprise that the rumor mill is in full operation these days. The latest tidbit comes from the world of Red Dead Redemption, where a couple new pieces of information may be pointing to that long-anticipated and already highly rumored follow-up being announced sometime next week.
Before we get rolling, it should be noted that all of this is 100 percent speculation pulled from extremely thin bits of information and images that themselves may be inaccurate. In other words, take everything that follows with a sizable grain of salt. Until Rockstar themselves say word one about a Red Dead Redemption sequel, we're chalking everything up to hearsay at this point.
So the folks over at EGM Now recently picked up on a thread from the Rockstar Games subreddit in which user Gaudynights claims that, along with being an employee of a tech company, they've done a bit of digging through Rockstar's website code.
The site recently experienced some downtime, which Gaudynights explains is typical when a site is being updated. Looking into the site's code, the user claims to have discovered a pair of pages that came back with an error message different from the typical "Page not found." Due to the way the pages are numbered, however, Gaudynights speculates that one is for the Red Dead Redemption follow-up while the other is likely reserved for the game's online mode. Apparently something about the numbering was similar to that used for Grand Theft Auto V and its online mode though, now that those two mystery pages are no longer available, we can't really check Gaudynights' work. Even if we could verify the similarities in the way the pages are named, we still wouldn't really be verifying anything as it pertains to any particular game.
The second bit of data some are saying points to Red Dead Redemption 2 is a screenshot that went live last week with a watermark that reads, appropriately enough, Red Dead Redemption.
This bad boy popped up on the Red Dead reddit, which could actually be a fun name of a parody game for the series. The comments include a lot of back and forth over whether or not this is an image from the original Red Dead Redemption or something pertaining to the sequel. User KDotMatrix, though, has an interesting point concerning the image, specifically the use of chromatic aberration. He points out that the use of chromatic aberration, which is present in the supposed Red Dead shot, is something that is frequently used in modern AAA games, but not in games from last generation. In other words, whether or not this is a real image, it probably wasn't made half a decade ago. The user goes on to point out that this could also be from a Read Dead Redemption remake, which has also been highly rumored.
Your Daily Blend of Entertainment News
Staff Writer for CinemaBlend.