Outlast 2 Is Coming, Here Are The First Details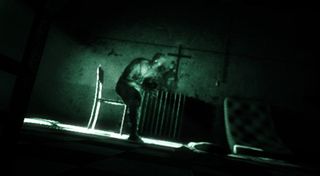 One of the surprise hits of the year was Outlast, a horror game that really pushed desperation and torture-tension to the extreme. The idea was that you were trapped in an asylum and basically were attempting to outlast the psychopaths and crazy experiments that were out to kill you. Well, the game's surprise success has been big enough for the developers to actually consider and start working on a sequel. So plainly put, there is an Outlast 2 coming and Red Barrels released a few details.
The announcement of the game came courtesy of an interview with Bloody Disgusting, where Red Barrels revealed that following the release of the "Whistleblower" DLC for the original Outlast, they've already started work on Outlast. Red Barrels co-founder Philippe Morin mentioned in the interview that...
Work on the sequel began immediately after the team shipped the latest bit of DLC for platforms where Outlast was made available.
The team still had an itch to create something truly horrifying and unique and they felt that the time was right to dive back into the Outlast universe. According to Morin...
Now that's an interesting approach: Make the game you want to play.
That's one of the biggest differences between independent studios and AAA studios. The smaller guys and gals can work on what they would buy and play themselves, where-as the AAA studios are all about making whatever will keep shareholders happy.
I've also found it interesting that Outlast contained a lot of mature subject matter and some pretty disturbing themes, but it was rarely ever lambasted in the media for its depiction of sexual violence against men. I wonder if the asylum had featured female patients, would it have received the same kinds of glowing treatment from reviewers? Interesting how that works.
Anyway, Outlast 2 is still in the early phases of development. It'll be a while before we see anything substantial surface for the game. As to whether or not players will be able to finally fend for themselves against attackers? Well, here's what Morin had to say...
Well there you have it, folks. It looks like we'll have to wait and see whether or not we can fight back against psychopathic, mutant-rapists.
You can check out the rest of the interview over on Bloody Disgusting.
Your Daily Blend of Entertainment News
Staff Writer at CinemaBlend.