Outlast Will Run At 1080p And 60fps On PS4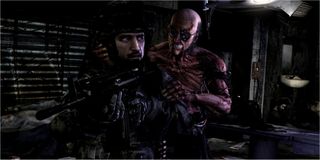 Another PC port is making the jump onto the PlayStation 4 this February as both a digital download title and as part of the PS Plus program (meaning it will be free for memebers) and it's a widely acclaimed and popular title that found a distinct audience on PC.
In addition to coming to Sony's new generation console, it has been confirmed that Outlast will run native 1080p at 60 smooth-as-Robin-Thicke's-voice frames per second... and there's no blurred lines about it.
GamingBolt got in word with Red Barrels' co-founder, Philippe Morin, one of the bright minds behind Outlast. Morin confirmed to them that the game will maintain the Holy Grail standard of 1080p at 60fps, with GamingBolt writing...
Well that's a relief. It looks like the PlayStation 4 is keeping the trend going after attempts to disrupt its momentum reared its head in the form of that ugly little thing known as Resolution-gate.
But Red Barrels isn't about to let console politics get in the way of disrupting gamers from having fun with consoles that are supposed to be outputting new generation quality effects. I mean, the whole point of upgrading to a new console and paying a premium price is that the new experiences are supposed to be an upgrade over the old ones right? I mean, who pays $60 to play games at 720p and sub-30fps on hardware that costs half a grand? This isn't 2007 anymore.
GamingBolt made it known that Morin and crew were aiming for some startling parity between the PC and PS4 builds of Outlast, writing...
This is great news. At least the PS4 is showing that it's not tanking early on like the Detroit Lions last season... peaking early like Orlando Bloom's career.
Having some growing room is imperative for a console's longevity, especially when it needs to be able to truck through at least eight years of all sorts of software abuse from big and little game engines alike.
As for Outlast, the game was rallied upon by many within the core gaming community as one of the best horror games in recent times. It was even praised by the Clueless Gamer, Conan O'Brien. And if Conan likes a game where he isn't paid to say he likes it, I guess that means it's kind of good... right?
Anyway, if you were hoping for a few more titles to help fill out your library as you await more AAA tentpole blockbusters to drop throughout 2014, Outlast will be yet another title to help fill the gap between big releases.
I guess it's too bad only PC and PS4 are getting mid-budget games throughout during this lull, though. We'll soon see what the Xbox One has to offer come March.
Staff Writer at CinemaBlend.
Your Daily Blend of Entertainment News
Thank you for signing up to CinemaBlend. You will receive a verification email shortly.
There was a problem. Please refresh the page and try again.