PS4 Outsold Xbox One In November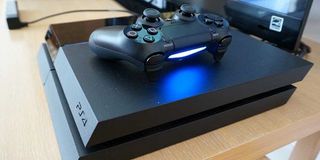 Sales figures for the busiest shopping month of the year have come in and it looks like the PlayStation 4 made it to the top of more peoples' holiday wish lists, earning a spot as the number one console sold in November.
Word's coming down from Gamespot that the PlayStation 4 was the top-selling game console in the United States for the month of November. Sony supplied a statement to The Spot ahead of the usual NPD results, though no figures were actually tied to the statement. Microsoft apparently also reported having a solid November though, again, nobody was too keen to share numbers.
Our guess is that nobody wants to throw around sales figures until everything is official, but Sony is apparently confident enough to state that they have taken the November crown. You readers may recall that the Xbox One actually outsold the PlayStation 4 in October, a feat that hasn't occurred too many times since the consoles released a couple of years ago. The Xbox One was spurred on by the launch of a couple of big games this Halloween season, including the likes of Halo 5 and Rise of the Tomb Raider.
Big games like Fallout 4 and Star Wars Battlefront launched in November, too, but most of the hits were multiplatform offerings rather than exclusives.
According to the original story, Sony further backed up their November sales by stating that it experienced the strongest Black Friday sales day in its history. For an industry that some folks like to claim is dying, that's not too shabby.
Since both the PlayStation 4 and Xbox One were being offered in various bundles for around $300, there was an even playing field running through the month of November. Our take on the matter is that the previous momentum for the PS4 simply resumed once there were fewer big exclusives to get excited about and, coupled with much-hyped upcoming titles like Uncharted 4, The Last Guardian and No Man's Sky, folks who didn't have a PlayStation 4 yet made sure they got one this holiday season.
Looking ahead, it's probably a safe bet that the PS4 will continue this trend heading through the month of December. Again, there aren't a lot of big exclusives launching this month that might sway a shoppers opinion, and those big titles mentioned above are closer now than they've ever been. Further fueling that fire will be the recent PlayStation Experience event, where Sony basically held a mini-E3 press conference full of trailers, announcements and even a few surprise game launches.
Keep in mind that this doesn't mean that the Xbox One is suffering due to Sony's success. Microsoft is reporting a strong November and a huge Black Friday, too, though we'll have to wait until some proper figures get released before we can make any sort of comparison.
Staff Writer for CinemaBlend.
Your Daily Blend of Entertainment News
Thank you for signing up to CinemaBlend. You will receive a verification email shortly.
There was a problem. Please refresh the page and try again.