This New PS4 UI Is Probably Fake But Shouldn't Be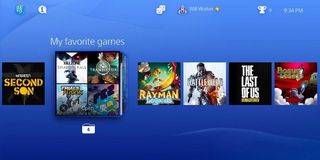 Yesterday alleged screenshots from the PS4's new user interface hit the Internet. The images look great but their authenticity is being questioned.
The screenshots suggested that players would be able to organize their library of PS4 games and apps with folders. Currently everything on your console is listed in one horizontal line. Folders would make it quicker and easier to find your desired game or app, especially once you've loaded up your console's hard drive to the brim.
The new UI supposedly introduced changes for game invites and Trophies. The new Trophy notifications were smaller, with the level of the Trophy revealed with a bronze, silver, gold, or platinum border around its icon. Invites were similarly sleek. Both types of notifications, illustrated in the videos below, had the PlayStation logo on their edge.
These are changes would be welcomed by many PS4 owners. I could take or leave the new notifications but I'd use the hell out of those folders. The current dashboard annoys me to no end.
However, NeoGAF users began to pore over the first screenshots and spot some inconsistencies. For example, one shot lists Killzone: Shadow Fall with a "Rating Pending" icon. A second shot shows the player earning a Trophy for killing a boss outside the normal location for that fight.
Meanwhile, on Reddit, verified Sony employee declared the UI images to be a fake. There's a chance that this employee doesn't know what they're talking about. However, this statement combined with the inconsistencies in the screenshots lead me to believe that this is all an amateur mock-up rather than a genuine leak.
Even if these videos and screenshots turn out to be fake, I do hope that Sony takes note of the positive reaction the new UI is getting among the PS4 community. Whoever made this new UI had some solid ideas that should be taken seriously.
On the off-chance this new interface is real, we'll probably hear about it at Gamescom 2014. The Cologne, Germany-based convention will be held this week. Sony plans to make a few announcements during the event and an overhaul to the PS4's UI seems worth a mention.
Staff Writer at CinemaBlend.
Your Daily Blend of Entertainment News
Thank you for signing up to CinemaBlend. You will receive a verification email shortly.
There was a problem. Please refresh the page and try again.