Penny Arcade Adventures 3 Delayed On Xbox 360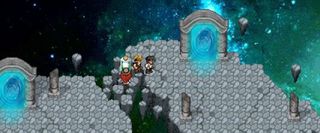 The PC and Xbox 360 versions of Penny Arcade Adventures: Episode Three will not be arriving simultaneously as planned. The 360 version has been delayed to account for a last-minute bug.
Penny Arcade's Jerry Holkins revealed on the webcomic's blog that the game apparently crashes if you pull out the memory card while saving. It only happens if you're playing on an older Xbox model with a Memory Unit. Also, you need to be dumb enough to actually remove the unit just as the game warns you not to remove it. It's a rare bug, to be sure, but Zeboyd Games is holding off on releasing the game until its fixed.
It seems like a small issue to fix but the issue is that you can only submit a game to Xbox Live Indie Games once every seven days. Zeboyd has to wait until Tuesday to send out the updated build. Boo, bureaucracy, boo!
[[ br. ]] Episode Three is the first game in the series not developed by Hothead Games. Cthulhu Saves the World Zeboyd is putting their own spin on the series by introducing SNES-like visuals. The end result looks a bit like Final Fantasy 6. I'd imagine the script has a lot more sass, though.
In Penny Arcade Adventures, the player assists Penny Arcade stars Tycho and Gabe in an investigation through a steampunk world. During this adventure, players will encounter many characters from the webcomic including Fruit Fucker and Annarchy. Gameplay in previous installments was a mixture of puzzles and real-time RPG combat - presumably that hasn't changed for Episode Three.
The PC version of Episode Three will be available on July 25th. Android and iOS versions are also planned but currently undated.
Staff Writer at CinemaBlend.
Your Daily Blend of Entertainment News
Thank you for signing up to CinemaBlend. You will receive a verification email shortly.
There was a problem. Please refresh the page and try again.