Pre-Order Too Human And Get New Threads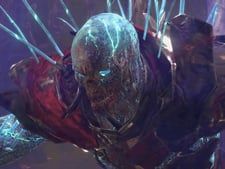 We're about two months away from the release of Too Human and Microsoft's sweetening the pot for those of you who pre-order. If you throw down a few bucks to reserve your copy now, you'll get five exclusive sets of armor for your character free.
For those of you who haven't been run over repeatedly by the hype bus, Too Human is the first installment in a planned action-adventure trilogy by Silicon Knights exclusively for the Xbox 360. Players control a cybernetic Norse god (I'd explain but I really can't) who protects humanity from a mysterious machine army. The game combines the button-mashing, 3D action mayhem of games like God of War with the character advancement and customization of an RPG.
According to Gamerscoreblog, pre-ordering will get you one set of armor for each of the five character classes in the game. The armor will give class-specific bonuses and contain two customization slots for further enhancement.
The free armor will be offered through "participating retailers." No specific stores were named and Best Buy, Amazon, Gamestop don't mention the deal on their sites so we'll see how that shakes out. Too Human is due in stores on August 19th.
Your Daily Blend of Entertainment News
Staff Writer at CinemaBlend.