Prince Of Persia Game With Rayman Legends Engine In Development?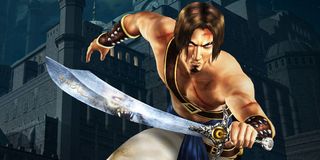 Ubisoft is making a retro-style Prince of Persia game, according to a new report. The side-scroller is allegedly being developed by Ubisoft Montpellier, the same studio responsible for Rayman Legends and Origin.
The new Prince of Persia will use the same UbiArt Framework Engine seen in Legends and Origins, according to Portail du Jeu Video. The engine allows the developers to animate each of the Prince's body parts independently to make him life-like even in a 2D side-scroller.
The report mentions he'll be "shirtless" with dark complexion and medium brown hair, so maybe Ubisoft will be basing the character on his Sands of Time appearance. After all, that look makes a lot more sense than his "blonde dude in a wife-beater" appearance from the first Prince of Persia.
Portail du Jeu Video adds that the game will feature many of the signature gameplay elements of past Prince of Persia games. The Prince will be agile enough to leap across gaps or wall-run. He'll also battle enemies with a sword if need be.
Ubisoft said in January 2013 that they were shelving Prince of Persia.
"I'm not scared at all for Prince of Persia fans," Ubisoft Montreal CEO Yannis Mallat said at the time. "We'll find something to entertain them with in the future. Prince of Persia is part of Ubisoft's portfolio. As a matter of fact, we sometimes iterate on franchises and sometimes we give them time to breathe and time to grow, or time to rest."
"Prince of Persia is as important as any other franchise for Ubisoft. As soon as we have something to show, we will."
Ubisoft hasn't had a clear plan for Prince of Persia since they ended the Sands of Time trilogy in 2005. They attempted to reboot the series with a new art style in 2008. However, they dropped that storyline and went back to the Sands of Time franchise with interquel The Forgotten Sands.
The company was also considering bolder changes to the series. A screenshot from a combat-heavy, open-world PoP was leaked in 2012. Ubisoft cancelled a modern-day game a few years before that.
It still remains to be seen what direction Ubisoft will take with the next AAA Prince of Persia game. In the meantime, though, why not explore the series' 2D roots? It's cheaper than a full-blown sequel and Ubisoft already knows that there's an audience for the Prince's side-scrolling adventures.
Ubisoft has yet to comment on this latest report. It seems very plausible, though. Their mobile remake of Prince of Persia 2 from last year showed a desire to return to the series' roots.
Staff Writer at CinemaBlend.
Your Daily Blend of Entertainment News
Thank you for signing up to CinemaBlend. You will receive a verification email shortly.
There was a problem. Please refresh the page and try again.