Prince Of Persia Shelved By Ubisoft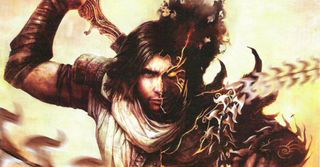 Prince of Persia will have to wait a long time for the next game in the series. Ubisoft Montreal CEO Yannis Mallat confirmed today that the company has decided to "pause" the action-adventure series.
Mallat emphasizes that this isn't the end of the Prince of Persia series. Ubisoft still considers it an important franchise. They're just not ready to revisit it just yet.
"I'm not scared at all for Prince of Persia fans," he told IGN. "We'll find something to entertain them with in the future. Prince of Persia is part of Ubisoft's portfolio. As a matter of fact, we sometimes iterate on franchises and sometimes we give them time to breathe and time to grow, or time to rest.
Added Mallat: "Prince of Persia is as important as any other franchise for Ubisoft. As soon as we have something to show, we will."
The Prince franchise has been in a state of flux for several years now. After the wildly popular Sands of Time trilogy, Ubisoft decided to release a reboot with a new art style. Rather than develop a sequel for that reboot, they followed it up with The Forgotten Sands, a game set between the first and second Sands of Time games. The company also considered a modern day PoP game but canned the idea.
This summer, a supposed screenshot of another reboot was leaked. This reboot was allegedly an open-world game and emphasized combat rather than platforming and puzzles. In keeping with this combat-heavy premise, the protagonist was much burlier than previous heroes in the series.
Ubisoft never commented on this leak. It's possible that they're still mulling over this idea. Many fans weren't happy about the supposed new direction that this reboot was taking. I'm curious to see whether the ultimate game ends up being as drastically different from Prince tradition as it seems.
The "pause" on Prince of Persia suggests that we won't see a new game in the series until the next generation of consoles. The next Xbox and PlayStation are rumored to be arriving at the end of this year.
Staff Writer at CinemaBlend.
Your Daily Blend of Entertainment News
Thank you for signing up to CinemaBlend. You will receive a verification email shortly.
There was a problem. Please refresh the page and try again.