Pwn Therapy: Customized Xbox Developed For Hospital Patients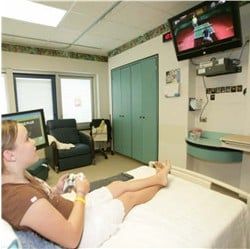 Microsoft has teamed up with Cerner Corporation, an IT company specializing in healthcare, and Spectrum Health System, a group of hospitals in Michigan, to create a special Xbox 360 console for hospitals. The Cerner Care Console not only allows patients to watch movies and play games, but also allows them to take an active role in their care.
The Care Console system, currently undergoing a test run at Spectrum Health's Butterworth Hospital in Grand Rapids, has a variety of features to ensure the patient is informed and involved during their hospital stay. It allows the patient to write electronic notes to their physicians, browse background information on their condition, review their treatment schedule, and provide real-time feedback about their stay.
"By pulling information from the Cerner Millennium computing platform to educate patients about their care, we're able to improve satisfaction, and create an informed dialogue between patients and providers," said Cerner president Trace Devanny in a press release issued this week.
Plus, it's a working Xbox 360. "An entertained patient is a healthy one," as the saying I just made up goes. The entertainment component of the Care Console system is powered by Xbox 360 and Windows Media Player technology and allows patients to play games, listen to music, and watch TV or movies. The Care Console was displayed at the Consumer Electronics Show in Vegas this week. I've yet to see this device myself (the photo on the right is a similar system that the Arkansas Children's Hospital rigged up earlier this year). I'm hoping the Care Console has the puke-green - sorry, "Spartan" - finish of the Halo 3 edition 360 (opens in new tab). It feels appropriate.
Your Daily Blend of Entertainment News
Staff Writer at CinemaBlend.