Red Vs Blue "Guys Like Us" Halo 3: ODST Trailer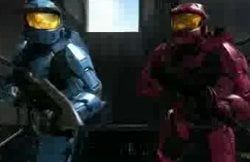 GameStop and Rooster Teeth have come together to do some special things...like, promoting Halo 3: ODST with a new series of Red Vs Blue episodes. The good part for gamers is that they get to see some footage of Halo 3: ODST and some classic Red Vs Blue all rolled up in one trailer.
The new series of episodes are being released in correlation with the upcoming retail-shelf initiation of Halo 3: ODST. So the new trailer shows the gang back in action…or rather, their lack of action as they witness what the new competition is going to be like.
The episode "Guys Like Us" can be viewed below…for free. Why else would anyone want to watch it, eh? Anyway, gamers who are too stoked to wait for the Halo 3: ODST release date to roll around can jump the gun with a pre-order and receive the special bonus of being able to play as Sgt. Johnson in Firefight mode. Just drop by GameStop for all the details.
For more gaming news, updates, info, insight and media, be sure to stay tuned in with Blend Games.
Staff Writer at CinemaBlend.
Your Daily Blend of Entertainment News
Thank you for signing up to CinemaBlend. You will receive a verification email shortly.
There was a problem. Please refresh the page and try again.