Renegade X: Black Dawn C&C FPS Now Available For Free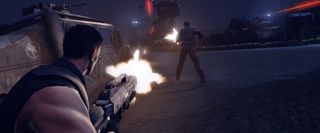 Based on an Unreal Tournament 3 mod, Renegade X: Black Dawn is a Command & Conquer style first-person shooter that incorporates all the vehicles and open-world mayhem into real-time action experience.
Indie developer Totem Arts announced today that Renegade X: Black Dawn's single-player campaign is currently available for download, right now. The best part about it is that it's free-to-play and contains all the high-quality action and entertainment values from a AAA big-budget title. The graphics are superb and the lighting and use of the shaders are implemented nicely, giving the game it's own, dark, distinctive look.
As stated on the official website...
What's more is that a multiplayer version is also in the works where players will command tanks, helicopters, drop-ships and more as they battle for control of territories and resources, Command & Conquer style.
For the most part, if you've always wanted to experience what an epic, large-scale battle from C&C would be like on ground level as grunt trooper, well here's your chance.
To download the single-player campaign be sure to head on over to the Official Renegade X: Black Dawn Website.
Staff Writer at CinemaBlend.
Your Daily Blend of Entertainment News
Thank you for signing up to CinemaBlend. You will receive a verification email shortly.
There was a problem. Please refresh the page and try again.