New Reptile From Mortal Kombat Statue Is Amazing And Insanely Expensive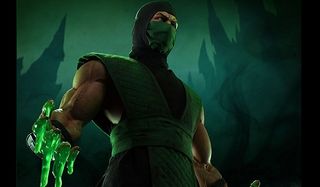 If you've ever wanted to have you very own statue of Mortal Kombat's reptile, well now's your chance. And it's an extremely detailed statue, too, which means the things comes with a pretty surprising price tag to boot.
Longtime Mortal Kombat fans will remember that Reptile was the series' first hidden character. In the original game, you had to get a double flawless victory over your opponent in The Pit and then finish them off with a Fatality. Do that correctly and you'd find yourself fighting this stealthy ninja in the bottom of the Pit. It was a pretty tricky battle, as Reptile mixed the moves of both Scorpion and Sub-Zero into a single deadly package.
Starting with Mortal Kombat II, Reptile was finally given the love he deserved and begame a fully-fledged new character. You could select him from the roster and he even had his own unique moves rather than stealing from others.
Over the weekend, Go Nintendo stumbled upon this listing for a pretty impressive Reptile statue that's being offered by PCS Collectibles. Even more staggering than the design, though, is the price tag. This statue is going for $749.99 or, if you're willing to pay it off in one go, $637.49. We assume only the most hardcore Mortal Kombat fans will be reaching for their wallets at this point.
To its credit, though, this 1:3 scale Reptile statue is pretty unbelievable. It stands at 28" tall and has an LED base that lights up. The outfit is hand-tailored fabric and you can even swap out his hands and face. The hands can go from slime-covered to empty, with the face boasting a masked version of Mortal Kombat's green grappler, a lizard face, or even a skull face. The statue has been made with the blessing of Warner Bros. Entertainment Inc., too, so you know you're getting an authentic piece of Mortal Kombat memorabilia. But since the thing is going for more than the average VR headset, we kind of wish it also spit actual acid or sprung to life to defend your home in the event of a robbery.
It's not uncommon to see a statue based on a game character hit the market, but the detail (and that price) is kind of on a level of its own. This certainly isn't the type of thing you'd find in a "Collector's Edition" box for a game.
We're sure we have some Mortal Kombat fans in the audience, so please let us know in the comments below if this is something you'd consider adding to your collection. Even if you're not a major Reptile fanatic, have you ever purchased a piece of game memorabilia for a similar price point? Please let us know in the comments below.
Your Daily Blend of Entertainment News
Staff Writer for CinemaBlend.