Resident Evil 5 Biggest Video Game Launch In UK Ever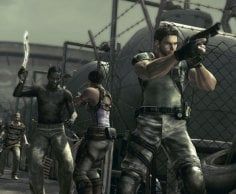 The headline reads like this is some sort of uber-event for the United Kingdom video game sales. Turns out, that's true. Looks like Chris Redfield and his tree-trunk arms worked wonders for moving SKUs off store shelves. The stats are showing that Resident Evil 5 is breaking records the world around, but has set somewhat of a monumental mark, specifically, on retailers across the pond.
According to an article on Electronic Theatre, the latest sequel in the Resident Evil franchise has easily out-sold its former-parts and gobbled up the number one spot in the UK in just one week. By and far, the game has easily out-stripped its prequels of any sales records they may have previously held.
In fact, according to the article, the game accrued 27.1% of all UK videogame sales last week. Nice. Capcom should have nothing to complain about for the rest of the year. And if they post any quarterly losses, then their execs need to get royally pimp-slapped.
You can check out the full article by visiting Electronic Theatre. We'll have the full NPD numbers for you as soon as they're released. Until then, for more gaming news, updates and info, be sure to stay tuned in with Blend Games.
Staff Writer at CinemaBlend.
Your Daily Blend of Entertainment News
Thank you for signing up to CinemaBlend. You will receive a verification email shortly.
There was a problem. Please refresh the page and try again.