The Walking Dead Rises As New Zen Pinball Table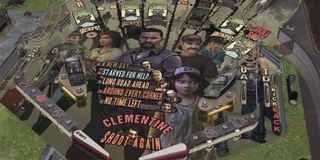 We all know that The Walking Dead makes for a good adventure game, but you know what genre could really benefit from a healthy horde of those shambling masses? Why, pinball, of course. The wizards at Zen Studios have now announced table themed off of The Walking Dead, which will be launching for the developer's various pinball platforms on PC, mobile and consoles later this summer.
If there's one thing we should know about zombies at this point, it's that they're damn-near impossible to keep down. No matter how many times you destroy the grotesque buggers, they always manage to come back for more. That goes double for the undead creatures in The Walking Dead, which have managed to shamble off of the pages of Robert Kirkman's comic book and into a television show, two major video games, action figures and more.
Now the walkers' reign of terror is set to continue in a whole new genre as Zen Studios partners with Kirkman himself, and the makers of the award-winning The Walking Dead video game, Telltale Games. The new pinball table looks to be based on the first season from the game, boasting appearances from Clementine and Lee.
"A true collaborative effort, both Zen and Telltale have worked together on each detail of the table design, sharing ideas and fusing their passion to bring the story and choice-driven gameplay of The Walking Dead: Season One journey to the playfield," reads a press release from Zen. "Touring locations from Clementine's treehouse to Everett's pharmacy in Macon, all the way down the tracks to the walker-infested streets of Savannah, players will find an authentic tour of Season One capturing the peril and drama of Lee and Clementine's story."
As stated above, the table will present players with an element of choice, with adventures taking players through each of the first season's five chapters. You'll have to choose who to save and who to leave behind, you'll need to solve problems while keeping the group sane, and you'll also need to search for food and supplies along the way.
"Zen knocked it out of the park with their interpretation of Telltale's first season of The Walking Dead as a pinball table, "said Telltale SVP of Publishing, Steve Allison. "Players once again get to step into the shoes of Lee Everett and protect Clementine as all the major events of Season One play a role in the first ever pinball game that features choice and consequence gameplay."
The new table will be shown off at next week's E3 event. Otherwise, look for The Walking Dead to rise from the grave on Zen pinball platforms for PC, consoles and mobile sometime in the next few months.
Staff Writer for CinemaBlend.
Your Daily Blend of Entertainment News
Thank you for signing up to CinemaBlend. You will receive a verification email shortly.
There was a problem. Please refresh the page and try again.