Rock Band 4 Will Include These 11 Popular Songs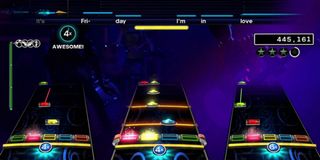 Rock Band 4 developer Harmonix has been slowly trickling out songs that will be added to the game's tracklist when it releases later this year on October 6.
The list has grown even larger with a heads up from Eurogamer that an additional 11 new tracks have been announced, from artists like Aerosmith, Judas Priest, Van Morrison, and Ozzy Osbourne. The tracks include:
"Toys in the Attic" - Aerosmith
"Friday I'm In Love" - The Cure
"Metropolis - Part 1 "The Miracle And The Sleeper" - Dream Theater
"The Feast and the Famine" - Foo Fighters
"Halls Of Valhalla" - Judas Priest
"All Over You" - Live
"Your Love" - The Outfield
"Miracle Man" - Ozzy Osbourne
"Still Into You" - Paramore
"Birth In Reverse" - St. Vincent
"Brown Eyed Girl" - Van Morrison
Honestly, I'm not falling all over myself about the mix just yet, however. Live's "All Over You" is a perennial '90s favorite that's always a hit when I blare it through my speakers, so I'm excited to finally bust it out karaoke-style in Rock Band 4, as well as "Brown Eyed Girl." It's just so infectiously catchy. But the rest of the songs, such as Paramore's "Still Into You" or even The Outfield's "Your Love" aren't particularly tracks I've been yearning to see over the years, nor the songs I would have chosen from those artists.
Harmonix released a brand new trailer showcasing a bit of each song individually, giving those who may not be familiar with them a taste of what to expect. Foo Fighters' "The Feast and the Famine," The Cure's "Friday I'm In Love," and Judas Priest's "Halls of Valhalla" show off some challenging riffs as well as the game's revamped overlay, which looks a bit cleaner and more modern than the last time we played in Rock Band 3.
The video doesn't delve into the rest of the music that it's adding to its repertoire, but if you're the type to make a purchasing decision based on musical interest with these games, you might look up a few of these songs while you're on YouTube to see if they're your speed. More than likely we'll see a lot more high-profile songs popping up as we head toward the game's launch, so keep that in mind as these announcements come out.
These lists are decidedly eclectic for the rhythm game giant, most likely due to the fact that Harmonix previously opened up requests for songs to be included in-game earlier this year. Opening up the floor to fans to allow the people who'll actually be playing was an interesting idea, especially given the fact that it's already given us a unique mix of songs.
But if none of the songs listed above particularly excite you, worry not. Rock Band 4 will be compatible with the 1500 other tracks already available to players on the Rock Band Music Store, as well as the tunes released in the previous Rock Band titles. Previously purchased songs may be imported so none of the collection gets lost in the shuffle. Sounds like a pretty fair deal.
Rock Band 4 is releasing for both Xbox One and PlayStation 4 and will come bundled with brand new instruments by way of Mad Catz. Additionally, you can use legacy instruments to get your rock star on. It'll be fun to see who ends up winning the rock revival in the end when both Guitar Hero Live and Rock Band 4 take the stage later this year.
Your Daily Blend of Entertainment News