Rockstar: Red Dead Redemption Not Viable On PC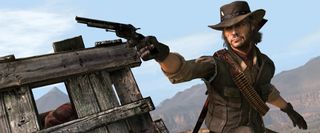 All of Rockstar Games' console titles generally end up on the PC. Red Dead Redemption is one of the notable exceptions. Rockstar reiterated on their website that they have no plans to port the open-world Westerner to that platform.
"We do know that, yes, there is just one title absent from our PC release plans – that game of course being Red Dead Redemption, and of course we're well aware that some fans have been asking for it," said Rockstar in a Q&A with gamers. "All we can say is that whenever it is viable (technically, developmentally and business-wise) for us to release a game for PC (or any other particular platform) – we will and we usually do; unfortunately, that is just not the case 100% of the time for all platforms."
"To PC gamers, we hope that between the Grand Theft Auto titles, and the forthcoming L.A. Noire and Max Payne 3, you'll have plenty of great Rockstar action to enjoy."
While it's not pleasing news to PC gamers, it makes sense. Red Dead Redemption is almost a year and a half old now. The lion's share of people who wanted to play it probably have at this point. Should they have released a PC version of Redemption last fall? Probably. The window has closed, though. Rockstar likely believes that releasing newer games like Noire or the upcoming MP3 on the PC will have better returns.
The PC version of L.A. Noire, dubbed the Complete Edition, will be released on November 8th. Max Payne 3 will hit the PC and consoles in March 2012.
Staff Writer at CinemaBlend.
Your Daily Blend of Entertainment News
Thank you for signing up to CinemaBlend. You will receive a verification email shortly.
There was a problem. Please refresh the page and try again.