RollerCoaster Tycoon World Finally Gets An Early Access Release Date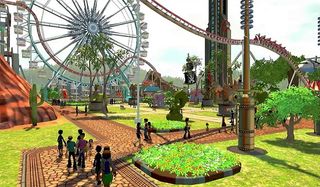 Hard to believe, but it's been more than a decade since the most recent RollerCoaster Tycoon hit the market. Atari is finally dusting the franchise off for the latest entry, RollerCoaster Tycoon World, which is heading to Steam Early Access next week.
As if it were coming at us from around a hairpin turn, RollerCoaster Tycoon World's launch date on Steam Early Access snuck up on us. Developer Nvizzio Creations, publishers RCTO Productions, and Atari announced recently announced on the game's official website that it'll actually arrive on March 30 for Windows.
If you've never played RollerCoaster Tycoon, it's a lot like Sim City, only on a more microscopic sale. Rather than take charge of an entire city, you're trying to build the best theme park. From the rides to the stalls to the layout of the park, your job is to create a fun experience for your visitors, give them plenty to do, and make it so that congestion isn't a problem. Here's a look at the new game in action.
So why is it launching for Early Access? Because RollerCoaster Tycoon World will hit the virtual market with all of the standard bells and whistles, but the developers want to keep working on the game following player feedback, as well as implement new additions in the coming months. The park has been closed for business for over a decade, after all, so it makes sense they'd want to take it on a trial run before fully opening to the public.
As for features, it sounds like RCTW will have lots of great creation tools. You'll be able to design your park down to the detail or, if you'd rather build quickly, you can use "snap-to" tools or "brush" environments onto the turf freely.
The 3D track editor will let you craft the most detailed rides to date, and fully deformable terrain and water will allow you to make a park that fits your wildest fantasies. You'll also be able to take advantage of detailed park management tools, dive into various game modes, and watch as the guests and environment adjust to your on-the-fly changes.
And for you coaster-heads out there, you'll of course be able to jump behind the cart of your favorite coasters and experience them from the first-person view.
But the world has become a bit more competitive since we last saw RollerCoaster Tycoon, so you better believe you'll be able to visit a friend's park, compare your stats and share user-created content. There will also be native Steam Workshop support, so expect future mods to come rolling in, too.
All of that gets rolling this Wednesday, March 30.
Your Daily Blend of Entertainment News
Staff Writer for CinemaBlend.