Saints Row 4 Christmas DLC Coming December 11th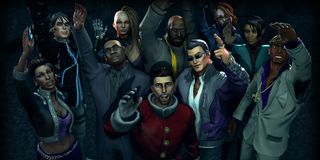 Saints Row 4 will be celebrating the holidays with a special DLC pack called "How the Saints Save Christmas." This add-on is one of several celebrations they have planned for the end of the year.
The holiday festivities kick off with a Volition Nice List contest. Gamers can send in suggestions on how the terrible human beings on the SR4 development team can redeem themselves in the eyes of Santa. The developers will reenact the best suggestions on film. To be considered, you'll need to send in your suggestions by November 29th.
The Saints Row Sing-A-Long Christmas Carol Contest is your turn to embarrass yourself on video. You can submit a video of yourself and friends singing a Saints Row-themed Christmas carol. Here's an excerpt from the lyrics:
Volition says that you can improve your odds of winning by dressing up like a Saints Row character. Should be easy enough; you've got some purple clothing around your place, don't you?
The best entries will be included in a Saints Row holiday video. All winners will also receive a "special seasonal gift" from the Saints Row 4 team. The prize bundle includes a Gioteck EX-05 Headset, Razer DeathAdder mouse, Gloryfy Limited Edition G3 Saints Row unbreakable sunglasses, and the Official Bradygames Guide to SR4. Entries must be submitted before December 5th. You can find out all the other details of the contest here.
"How the Saints Save Christmas" will then debut on December 11th. In this DLC, Santa has been trapped in the Steelport simulation. The Saints' leader doesn't care enough about Christmas to save him but perhaps his fellow gang members can help him find an appreciation of the holiday before Saint Nick bites it. The story will play out across three quests. Players will be able to ride a flying reindeer as well as Santa's sleigh. They'll also acquire new weapons like the Red Rider BB Gun and Christmas Dubstep Gun.
The Christmas DLC is one of two add-ons included in the SR4 Season Pass. The other half of the Pass, "Enter the Dominatrix," debuted in October. The Pass costs $10. Alternately, you can buy the DLC packs individually for $6.99 apiece.
Image 1 of 12