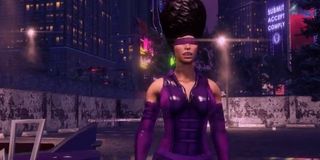 Saints Row 4 publisher Deep Silver confirmed today that the sandbox action game has gone gold. With development on the base game officially complete, they decided today was a good time to start talking about their downloadable content plans.
The first piece of content in the $10 Season Pass is the Director's Cut version of Enter the Dominatrix, originally planned as an expansion pack to Saints Row 3. Saints Row 4 dev Volition revealed at Comic Con that this DLC will be a presented as a behind-the-scenes documentary, with characters offering commentary on the development. Dominatrix will supposedly arrive within 45 days of the game's launch.
The Season Pass also includes a second mission pack. Deep Silver declined to provide any information on its contents. However, they say it will be available by the end of 2013.
Season Pass owners will also get exclusive access to an exclusive weapon called the Rectifier. The Rectifier is an anal probe that led the Australian Classification Board to refuse release of the game in that country.
"The lower half of the weapon resembles a sword hilt and the upper part contains prong-like appendages which circle around what appears to be a large dildo which runs down the centre of the weapon," reads the ACB's thorough description of the Rectifier. "When using this weapon the player approaches a clothed victim from behind and thrusts the weapon between the victim's legs and then lifts them off the ground before pulling a trigger which launches the victim into the air. After the probe has been implicitly inserted into the victim's anus the area around their buttocks becomes pixelated highlighting that the aim of the weapon is to penetrate the victim's anus."
Two mission packs and a weapon is a pretty lean DLC offering by today's standards. Saints Row 4's sudden change in publisher this year could be partly to blame. Or maybe Volition would rather work on a new game rather than simply churning out new content for SR4 for another year.
In SR4, the leader of the Third Street Saints has been elected President. Shortly after he takes power, though, the world is invaded by aliens. These extraterrestrials trap the Saints inside of a virtual reality world. The Saints quickly learn, though, that they can perform superhuman feats in this environment such as flying.
Today's DLC news was accompanied by a new gameplay trailer. This trailer introduces a "Weapon of Mass Abduction." Whatever you target with this weapon will be soon be sucked up into the air by a UFO. The player character in this trailer uses it to get rid of an entire truck.
Your Daily Blend of Entertainment News
Staff Writer at CinemaBlend.