Samsung Cloud Gaming Lets Gamers Stream AAA Games From TV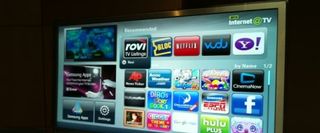 Gaikai and Samsung have partnered together to bring gamers a brand new service that completely does away with game consoles, PCs and any other bulky hardware outside of a single game controller and the television screen. The new service is called Samsung Cloud Gaming.
David Perry, CEO of Gaikai Inc. commented in the press release about the new partnership, saying...
Gaikai was originally a cloud streaming service competing with OnLive (another cloud gaming service). However, the former is moving up and moving out to a more mainstream audience...the television viewing audience.
The service will see TV goers quickly and efficiently being able to play from a number of select AAA titles offered via the Gaikai cloud streaming service. Using accompanying controllers, gamers and TV users alike will have a few of their favorite gaming titles right there at the tip of their fingers and all that's required is a pretty fast (and stable) cable connection.
Kyung-shik Lee, Vice President, Visual Display Business at Samsung Electronics commented in the press release, saying...
Gamers can start signing up right now to participate in the Samsung Cloud Gaming beta test. The service will be available on all 2012 Samsung Smart TVs starting with the Samsung 7000 series on up.
[[ br. ]] Official Website. (opens in new tab)
Staff Writer at CinemaBlend.
Your Daily Blend of Entertainment News
Thank you for signing up to CinemaBlend. You will receive a verification email shortly.
There was a problem. Please refresh the page and try again.