Secret Of Mana Comes To Virtual Console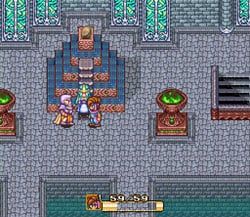 While Blend Games doesn't faithfully type up every addition to the Virtual Console/Playstation Network/Xbox Live Arcade libraries, occasionally there's a title that catches our eye. For example: the classic Super Nintendo RPG Secret of Mana is now available for download on the Virtual Console.
It would be misleading to say Secret of Mana is underrated but it's true that it doesn't get nearly as much attention as Square's other SNES RPGs like Chrono Trigger and the Final Fantasy games. The big difference between Mana and those games is that this game uses real-time combat like Legend of Zelda rather than turn-based combat. Also, two other players can hop into the game and control your companions. Other than those differences, it's pretty your standard Square RPG - an epic story of some punk-ass kid who saves the world. No airships but you do get to ride a dragon and get shot across the world in cannons, so that's fun.
Secret of Mana will set you back 800 Wii Points. The other game added to the Virtual Console library today was Street Fighter II: Special Championship Editon, which would've been a more newsworthy release if Street Fighter II Turbo: Hyper Fighting and Street Fighter II: The World Warrior weren't already available on VC.
Staff Writer at CinemaBlend.
Your Daily Blend of Entertainment News
Thank you for signing up to CinemaBlend. You will receive a verification email shortly.
There was a problem. Please refresh the page and try again.