See What's Included in Oxenfree's Collector's Edition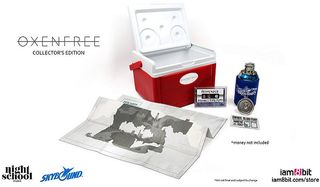 Even indie games are getting Collector's Editions these days, which is something that should excite anyone looking forward to tackling the new survival game from Night School and Skybound, Oxenfree. And now that we have the details on said Collector's Edition, it's shaping up to be a pretty nifty package.
Available for purchase at the iam8bit store, the Oxenfree Collector's Edition will set you back $55. It comes with a download code for the game itself, on either Steam or Xbox One. Also included in the set is an Oxenfree cooler, a "stash can" for storing goodies, a can insulator referencing an in-game bar, "Seafood Sammy's Happy Shanty," a ferry ticket to Edwards Island, a demo tape from the in-game band, Redeaded Bedwetters, a download code for the songs on that tape, as well as a tourist map.
A surprisingly considerate move, you can choose between a beer can or a soda can, in case you're buying the Collector's Edition of Oxenfree for a youngster.
If, however, you just want the game itself, it'll set you back $19.99 on both platforms.
That's a pretty nice collection of goodies that will likely delight fans of the game. There is, however, a limited number of copies of the collection, so you might want to jump on that one quickly if it has grabbed your attention. While most of those items will be mailed as a set, you'll actually be emailed a download code for the game immediately. Shipments for the rest of the items is expected for late February of this year.
As for the game itself, Oxenfree is being billed as a supernatural thriller featuring a group of youngsters who accidentally open a rift into another world. Players take on the role of Alex who, along with her stepbrother Jonas, has hit the road to an overnight party on an island.
Sort of an 80's teen horror flick meets an episode of Are You Afraid of the Dark, Oxenfree is an adventure game, so expect to makes loads of decisions similar to Telltale's The Walking Dead or The Wolf Among Us, though carried out in more of a 2D, side-scrolling environment. Your decisions will determine how the story unfolds and what frightening new secrets are uncovered. On second thought, a comparison to Whispering Willows or even Monkey Island might be a little more close to home.
The game is actually out now so, even if you aren't interested in a Collector's Edition but still want to give it a try, all you need to do is fire up Steam or your Xbox One and get to downloading. Again, the game itself will just set you back 20 bucks.
If you've already played Oxenfree, be sure to let us know what you think in the comments section below.
Your Daily Blend of Entertainment News
Staff Writer for CinemaBlend.