Sega, Gearbox Say Aliens: Colonial Marines Lawsuit Is Meritless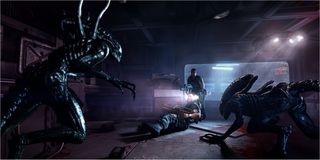 As many had already predicted earlier this year, the entire mess surrounding the controversial release of Aliens: Colonial Marines has resulted in the first class-action lawsuit. Unsurprisingly, both Sega and Gearbox Software feel that the suit has no merit and will not stand in the court of law.
The Escapist has an update on the suit that was brought about by Edelson LLC on behalf of Damion Perrine. As mentioned in the previous article regarding the matter, Edelson claims that Sega and Gearbox Software need to be held accountable for misleading gamers promotional material, including the E3 2011 demonstration and subsequent screenshots from the E3 build that did not actually exist as a distributable product. Worse yet was the outing of charges of embezzlement, financial mismanagement, political office in-fighting and blame-gaming that followed the initial controversy.
According to a Sega representative...
Gearbox Software also had someone comment on the ongoing litigation and issued a damage controlled response to Kotaku, stating...
I don't think anyone has any issue with work-in-progress videos. That's fine. However, the problem with Aliens: Colonial Marines, is that according to employees who spoke anonymously on several occasions, the demo build from E3 2011 was a completely separate project designed in two months for the sole purpose of wow'ing audiences.
Furthermore, Jim Sterling from Destructoid and some of Kotaku's own interviewed some of these employees and found that the final version of Aliens: Colonial Marines that was released to the public was finished in nine months time by Gearbox Studios, and had no ties to the E3 2011 vertical slice, which was designed entirely by TimeGate Studios, a company who recently filed for bankruptcy protection. In essence, what was demoed to the public and what was released were literally two completely different projects, with the E3 2011 slice being the main media vehicle throughout the promotional campaign for Aliens: Colonial Marines.
There's plenty of merit to the lawsuit based on what's publicly available for anyone to read up about regarding the development and promotion of Aliens: Colonial Marines. What's more is that if any employee from any of the involved parties decide to testify, it would only make matters worse for both Gearbox and Sega.
Staff Writer at CinemaBlend.
Your Daily Blend of Entertainment News
Thank you for signing up to CinemaBlend. You will receive a verification email shortly.
There was a problem. Please refresh the page and try again.