The Simpsons Deserves Another Great Video Game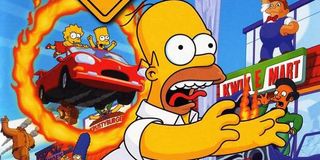 The Simpsons is turning 25 years old this year. The series is about to hit another milestone, too: 11 years without a good video game adaptation.
The Simpsons: Hit and Run was a surprise in many ways. For starters, it was a Simpsons game that didn't suck. Previous adaptations were mostly mediocre platformers. One of the few exceptions was the arcade beat 'em up released back in 1991. By the time Hit & Run came around, expectations had been lowered to the floor.
However, Hit and Run turned out to be several notches above all the Simpsons games that came before it. It was an open-world crime game that parodied Grand Theft Auto 3 while improving on it at the same time with features like instant mission replay and vehicle upgrades. Developer Radical Entertainment enlisted the writers and voice cast from the show as well to ensure that Hit and Run would be authentic and hilarious.
A sequel seems like a no-brainer. However, two years after Hit and Run was released, Electronic Arts acquired the exclusive rights to create Simpsons games. Radical had been purchased by Activision months before that so there was no chance of the studio collaborating with EA on Hit and Run 2.
EA's first release using the license was an action-platformer called simply The Simpsons Game. It had the same writers as Hit and Run and the voice cast from the show but was too bland and repetitive. The game's poor reception led EA to cancel the sequel. Since then, the only Simpsons games they've released have been mobile titles like Tapped Out and a remake of that old beat 'em up.
These mobile games are popular, not to mention lucrative. Tapped Out has earned over $130 million for EA as of January of this year. I wouldn't try to convince them to abandon this lucrative strategy.
Still, these mobile games don't do the source material justice. The Simpsons fans deserve a video game adaptation that puts the series' story, characters and sense of humor at the center. In other words, a game that feels like you're actually playing a super-sized episode of the show - similar to what Stick of Truth offered to South Park fans. You can keep making mobile games, EA, but please try something more ambitious, too.
This new game, in all likelihood, wouldn't be called Hit and Run 2. Activision presumably has the rights to that sub-series and have little reason to give them to a rival publisher. They can't stop EA from making a game with the same basic premise, though: an open-world action game set in Springfield and the surrounding areas. The writing and voicework of the TV show, coupled with modern gaming hardware, could result in a game that finally tops Hit and Run. A successor is more than overdue at this point.
Staff Writer at CinemaBlend.
Your Daily Blend of Entertainment News
Thank you for signing up to CinemaBlend. You will receive a verification email shortly.
There was a problem. Please refresh the page and try again.