The Sims 3 Pets Limited Edition Includes Dead Space, Dragon Age Pets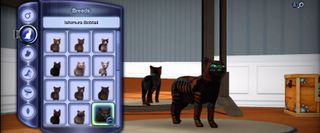 Today EA revealed the bonus pets you'll get by pre-ordering the Limited Edition of The Sims 3 Pets on PS3 or Xbox 360. The LE includes ten different pets, some inspired by EA franchises Dragon Age and Dead Space.
Is there much overlap in audiences for The Sims and Dead Space? Maybe not. The important thing is, though, that the cross-promotion resulted in a very creepy-looking cat.
Here's the full list of pets included in the Limited Edition:
Aztec-inspired Aztec Panthera cat
Panda Pom dog and Panda Chow dog
Skunk Birman cat
Tiger Chi dog and Tiger Husky dog
Dead Space-inspired Ishimura Bobtail cat
Bat-inspired Pouncer cat
Electronic LED-lit Cyber-tooth Tiger cat, Data Pup dog and Data Pointer dog
Robot-influenced Mecha Neko cat, Iron Terrier dog and Robo Dane dog
Dragon Age-inspired Mabari War Terrier dog and Mabari War Hound dog
Skeleton-themed Bone Mastif dog, Bones dog and Skeleton Crew Cat
The Sims 3 Pets allows players to create and customize cats and dogs. You'll also be able to control these animals or share them with friends. There are over a hundred varieties of cats of dogs in the game, and you can breed them to create additional possibilities.
Pets will arrive on October 18th. In addition to the PS3 and 360, the game will appear on the 3DS, PC, and Mac.
Staff Writer at CinemaBlend.
Your Daily Blend of Entertainment News
Thank you for signing up to CinemaBlend. You will receive a verification email shortly.
There was a problem. Please refresh the page and try again.