Sims 3: World Adventures Bonus Registration Content Announced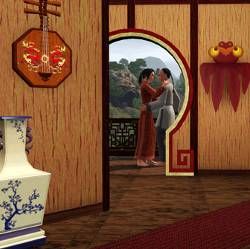 Registering games isn't only a good way to let Big Brother know what you're playing. In the case of The Sims 3: World Adventures, registration will also net you free in-game content.
When you register your copy of Sims 3's expansion pack, you'll get 1,000 SimPoints for use in the The Sims 3 Store. The Store offers hairstyles, furniture, and other items for your Simming needs. You'll also get access to something called the "Explorer's Loot Set," which provides you with maps for additional adventures as well as exotic furniture from across the world for your virtual apartment.
Sims 3: World Adventures arrives on November 17th in North America and November 20th in Europe. To go along with the announcement, EA also released a few new screenshots of the game that you can check out over at their website.
Your Daily Blend of Entertainment News
Staff Writer at CinemaBlend.