Smackdown Vs Raw 2011: Road To Wrestlemania Mode Detailed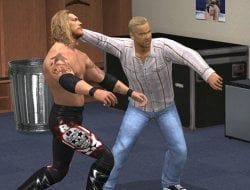 The new Road to Wrestlemania mode in the upcoming Smackdown Vs Raw 2011 sets the stage for brand new backstage experiences and storylines and THQ released new details on how the mode will work. Players will embark on their own road to Wrestlemania by playing one of five different WWE superstars who each have a unique and original experience as they aim to make a big enough impact in order to headline the biggest night of the year for wrestling fans.
As stated in the press release, players will…
The game will still contain the same RPG style leveling and progression system, along with the ability to interact with other superstars as featured in previous iterations of the series. In addition to this, the developers have been working with the WWE production crew to bring as much realism to the game as possible, including traveling to each arena, partaking in interviews and grabbing the real-life TV feel and presentation of WWE programming.
In case you were interested in who the five Road to Wrestlemania superstars with storylines will be, it includes The Undertaker , Rey Mysterio, John Cena, Christian and Chris Jericho. Sorry, looks like you'll have to wait until next year to control Wade Barrett or Kane.
To learn more about this year's Road to Wrestlemania mode, or check out more features for the game, feel free to visit the Official Smackdown Vs Raw 2011 Website.
Staff Writer at CinemaBlend.
Your Daily Blend of Entertainment News
Thank you for signing up to CinemaBlend. You will receive a verification email shortly.
There was a problem. Please refresh the page and try again.