Sonic And All-Stars Racing Transformed Comes With A Free Hot Wheels Car At GameStop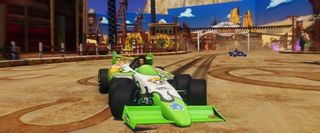 By purchasing Sonic and All-Stars Racing Transformed, you can get a limited edition Hot Wheels car. GameStop is giving out toy cars inspired by Danica Patrick's vehicle to everyone who picks up the kart racer.
So that's GameStop, Sega, NASCAR and Hot Wheels all getting in on this action. That's a promotion within a promotion within a promotion within a promotion. That's right, folks, we've just been promoceptioned. BRAWM! (That's the crazy loud noise from the Inception movie trailer, one of the few multimedia properties left out of this crazy cluster of promotions).
Sega of America Inc. and Mattel, Inc., makers of the iconic Hot Wheels toy cars, today announced that GameStop will be handing out a "Danicar" with every purchase of Sonic and All-Stars Racing Transformed, whether said purchase be made in-store or online. The promoception kicked off yesterday and will continue until they run out of the Hot Wheels cars.
In All-Stars Transformed, Danica Patrick races an electric green Hot Wheels car that's themed after the car she actually drives for NASCAR. Just like the rest of the vehicles in Sega's new karting game, the Danicar transforms on the fly in order to tackle the various courses' shift from land, to air, to sea and back again. The game is available right this second and, if you choose to make your purchase at GameStop, you'll net yourself a free Hot Wheels car in the process. So now you can play with your Hot Wheels car while driving the same car in the game. It's a playception!
Staff Writer for CinemaBlend.
Your Daily Blend of Entertainment News
Thank you for signing up to CinemaBlend. You will receive a verification email shortly.
There was a problem. Please refresh the page and try again.