Sonic & All-Stars Racing Transformed Unveiled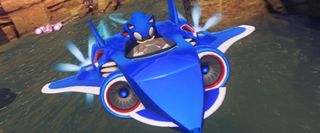 SEGA has announced a sequel to arcade racer Sonic & All-Stars Racing, Sonic & All-Stars Racing Transformed. It'll take the IP in a new direction by featuring a diversity of vehicles.
Currently scheduled for a "late" 2012 release on the PlayStation 3, Nintendo 3DS, PC, PlayStation Vita and Xbox 360, the racer will allow players to transform their cars into a boat or plane. Such transformations can be utilized within a track's aerial or aquatic segments.
Sonic and company will be returning to the sequel including the likes of Vyse (Skies of Arcadia), Gilius Thunderhead (Golden Axe), Dr Eggman and AiAi. All-Star moves will be making a return, too, with players being awarded the powerful mechanic upon filling up their All-Star meter via "daring and stylish" play.
Sumo Digital is returning to the development helm and will be accompanied by former Bizzare Creations (Blur) design manager, Gareth Wilson.